This past weekend, the Psychotic Productions crew had their Annual Wicked Weekend in Gainesville, GA. It was a great event with a very race-able track, piling in just over 400 entries.
There were four rounds of qualifying Saturday. Dylan Gerad was able to TQ all four rounds with his Tekin powered TLR SCTE 2.0. The RX8 Gen2 esc paired up with the Pro4 4300HD motor had his truck on rails all weekend. On main day, Gerad was able to win A1 and A2 to take the overall win. Tekin Teammate Martin Harrison, after starting second on the grid finished a strong second place with his Tekin powered SCTE 2.0. Bobby Moore would round out the Podium in third.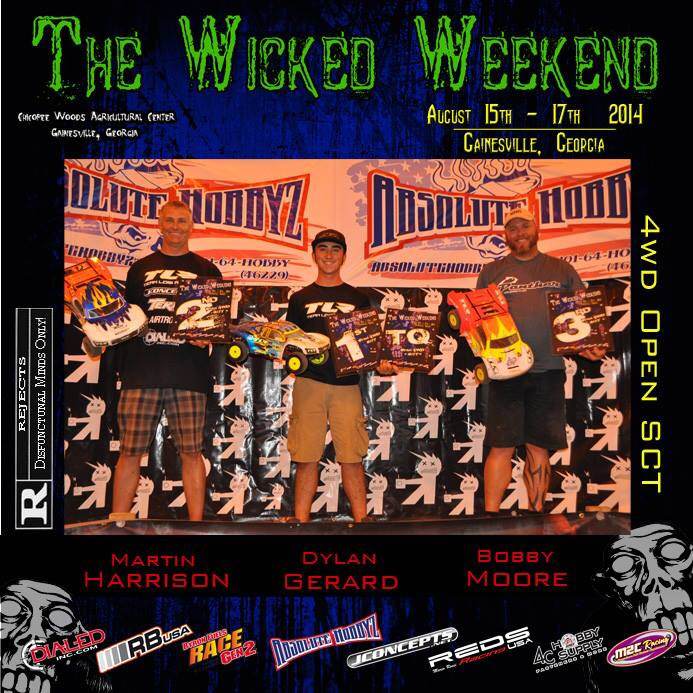 Pro E-Buggy had 34 racers competing this weekend.  Four great qualifiers allowed Shay Brand and Griffin Hanna to start in the 1st and 2nd on the grid. They ran 3 10min mains and took your best 2 out of 3 runs for your overall. The first main Hanna and Brand traded places a few times but Shay ended up with win 1 and Griffin 2. The second round Griffin was able to get a win which tied the two racers. Going into the last round it was anybodies to win. A small mistake by Brand allowed Hanna to get by early on. Shay kept the pressure on and Griffin made a mistake which let Tekin teammate Shay Brand to get the overall win with Griffin Hanna in the 2nd spot with 3rd going to Losi driver Cole Ogden. Both drivers chose the award winning Tekin Rx8 Gen 2 esc and T8 Series of motors.