The 2015 Bring The Heat took place in Flowood, Mississippi this past weekend. The schedule for this event was Friday practice, Saturday 3 rounds of qualifying with qual points and triple a mains. Over 200 entries would do their best on the big elevation changes, tight sections, and big jumps.
Tekin factory drivers were in force in the 1/8 E Buggy class. Tq Ryan Lutz would battle it out with Tekin teammate JR Mitch for the first 5 minutes. Lutz would bobble giving JR the lead while falling back to 3rd. Lutz would battle back and get close but never make pass. JR would take A1. A2 Lutz would pull a gap but JR Mitch was on a mission, catching Ryan around the 6 minute mark. JR would push hard but a few too many little mistakes wouldn't allow JR to capitalize and make a pass. Lutz would take A2. A3 would be a bit rougher as the track had slowed creating a lot more traffic in the back of the field. This would allow Ryan to create a gap and lead tone to tone without pressure. This would give Ryan Lutz the overall, Jr Mitch 2nd, Denny 3rd, Dickerson 4th, and Harrison 5th. 4 of the top 5 would be running the award winning Tekin Rx8 Gen2 Esc and T8 Gen2 line of motors.
E Truggy was a close battle. Tekin factory driver would take advantage of his P2 qualifying  position and make short work in both A1 and A2 taking the win in each over the field.  Martin chose the award winning Rx8 Gen2 esc and T8 Gen2 2000kv motor.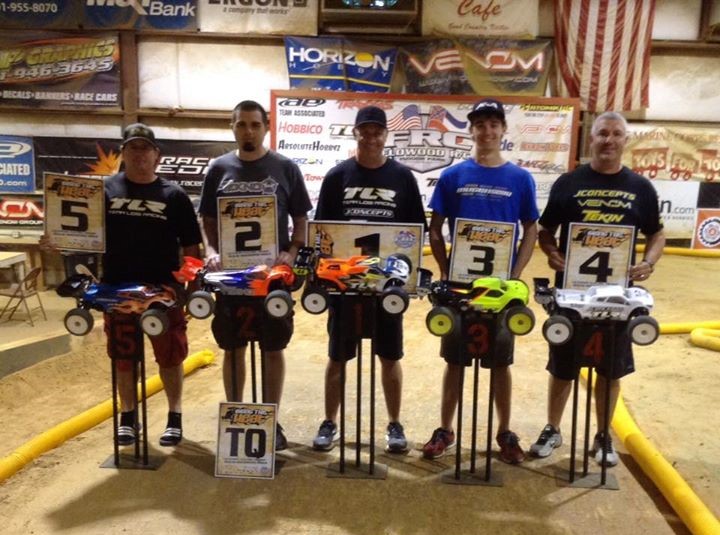 4wd Short Course truck would be another Tekin teammate battle. JR Mitch would take the overall Tq running the award winning Tekin Rx8 Gen2 Esc followed by Martin and Nathan Harrison also running the Pro4 HD 4300kv motors. JR and Martin would battle it out between the two but JR would take the overall win.