Traction Raceway hosted their 3rd Annual Traction Showdown out of Reno, NV. With drivers from all around the region attending the competition was good in all classes. Tekin drivers as well as team manager Randy Pike were all in attendance to help support Tekin users as well as show the way around the fun and technical layout!
Qualifying was Ifmar best 2 out of 4 rounds. 3 rounds on Saturday and one on Sunday following a cool 24 hour practice schedule meant there were no excuses for lack of track time!  Tekin powered Jason Moberly would Tq the Pro2 Mod 2wd SC class and Justin Moon would Tq the 2wd Mod ST Truck class as well. Tekin was found in nearly every single class at the top of the qualifying boards.
Tripe A-mains would kick off after the last round of qualifying. Justin Moon would start from P5 in A-1 of the 2wd Mod buggy class and put in a great run for a 2nd in A-1. A-2 taking 4th battling it out with Tekin teammate Jason "Mo" Moberly. A-3 would give Moon another 2nd chasing down AE' Chris Jarosz. Justin Moon would take a well deserved 3rd on the podium. Just chose the Tekin RSX and Redline Gen2 7.5 in his Serpent mid motor buggy.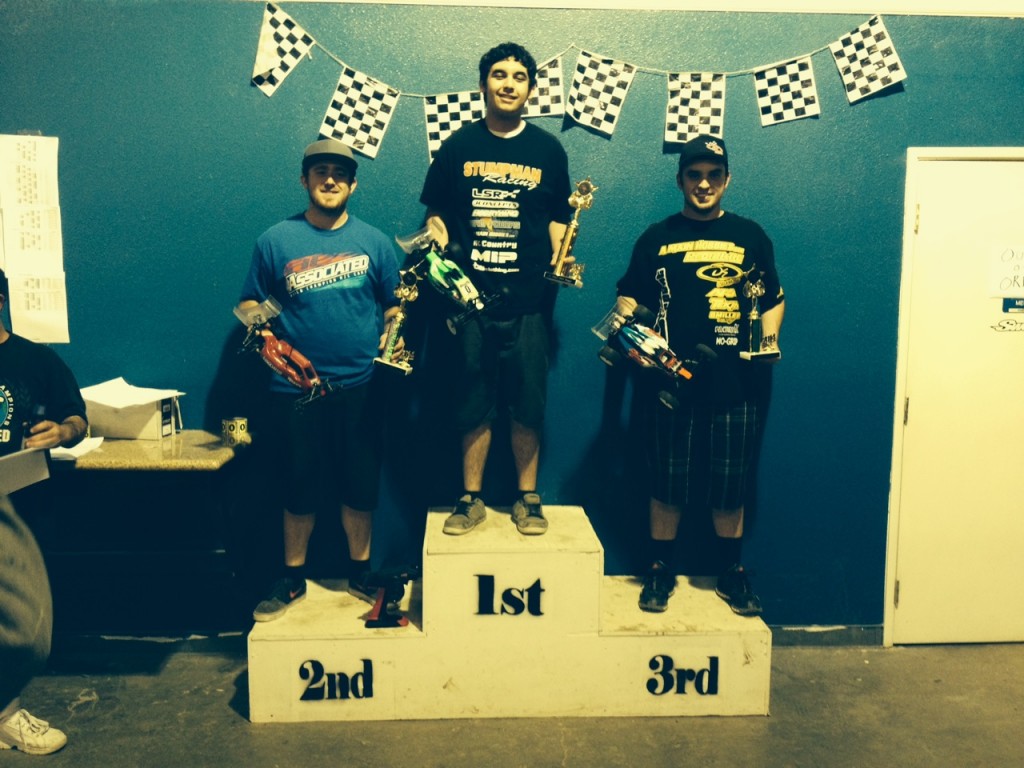 Justin would start from P1 in the Mod Stadium truck class using Tekin team manager Randy Pike's TLR 22T "rent a ride" taking A-1 and A-2. The truck was powered by a Tekin RSX and 8.5 Redline Gen2 motor.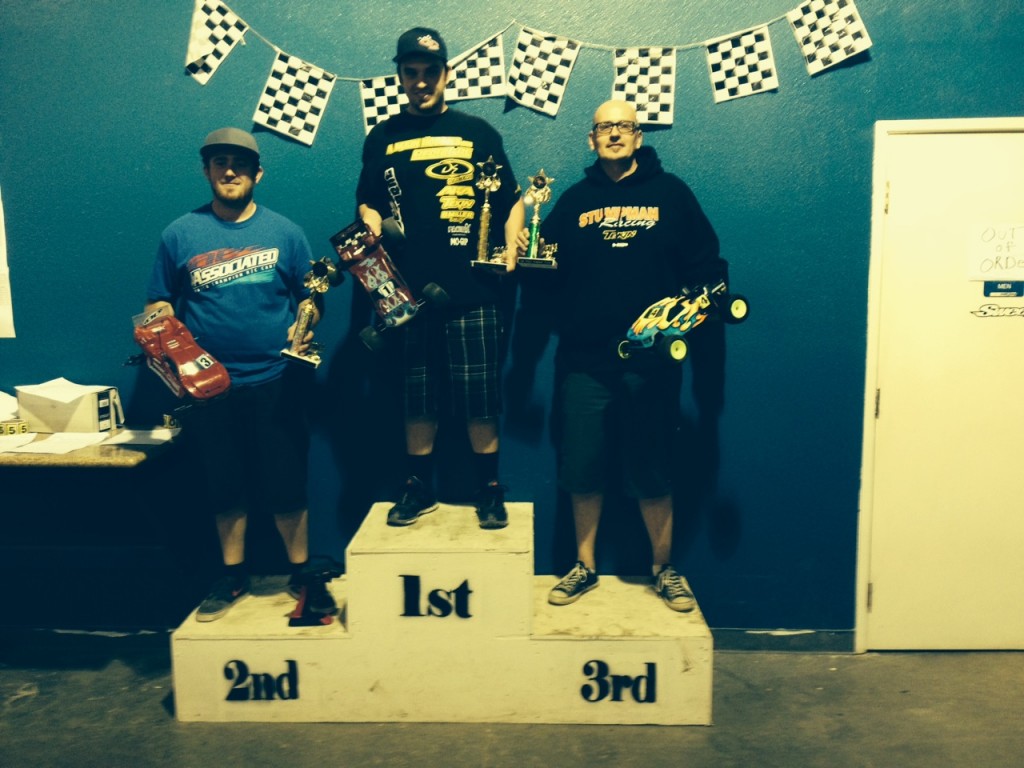 The 2wd Mod SC Class was dominated by Tekin powered trucks in the A. From his Tq position Jason Moberly would begin to check out early with clear track in front of him. Randy Pike would push hard from his P4 position forcing a few errors from Kyle Layton and Terry Wickum making the needed passes to take 2nd position. With lap traffic becoming a factory as early as Lap 3 Pike would push hard setting the fastest lap of in A1 but a few last lap bobbles fighting through traffic he'd run out of time settling for 2nd behind Tekin teammate Moberly. A-2 would be just as exciting right from the tone! Once again Moberly would try to checkout early on but Pike would make an aggressive move on the start tone to slip inside Wickum for 3rd. Layton would run wide opening the door for Pike who would waste no time taking the position. Pike would make an aggressive push pulling right up to the back of Moberly. Moberly was taking a different line up the step up section tapping the top where as Pike was clearing the section. This gave Moberly a nice tight line into the 180 corner but allow Pike a pass attempt however Pike would have the door shut on him! This however left to the two trucks body tucked together(Sorry Mo! RP) The two would work the trucks from each other not losing a position and continue on racing where once again Pike would attempt a pass this time over the top of Moberly on the step up. It would go wrong for Pike who would flip off the track requiring a marshal. This let Moberly cruise to another A win taking the overall!  A-3 would once again be no easy task. Tekin power still starting 2 3 4 and 5 meant everyone had the power to win. Pike's start tone pass wouldn't' work this time as  Wickum was ready  for it closing the door immediately on Pike. Pushing hard again though Wickum would bobble allowing Pike by getting onto the straight away. Pike would be pushing hard to catch up to now P1 Kyle Layton with Wickum in tow never going away.  Pike's push to catch the leader would only last another 2 laps once again setting the fastest lap of A3 coming around the high speed sweeper where a back marker would be marshalled right in front of the high speed trucking 22 SCT! Yup you guessed it, COLLISION!  Clean up in aisle 2, Pike would pop a ball cup going a lap down during the repair attempt. Layton would cruise to a victory with Wickum taking 2nd. Tekin would fill the podium with Moberly 1st, Layton 2nd, and Wickum 3rd. Moberly chose the Tekin RSX and Redline Gen2 9.5. Layton and Wickum both running RS Pro's and Redline motors also.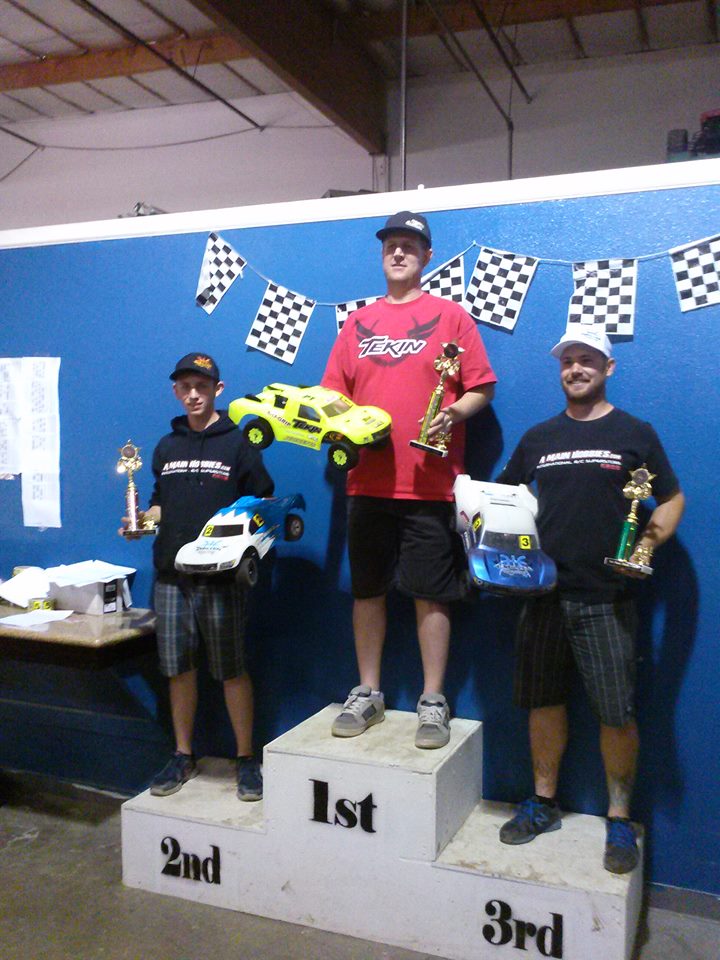 Kyle Layton would also have success in the Stock Stadium Truck class with his Tekin powered AE truck. Kyle running a Tekin RS Gen2 and Redline 17.5 Gen2 motor.