Known for being one of the hardest races to win due to the crazy 24 practice schedule, ever changing track conditions, and MEGA jumps along with a live or die wall ride the PNB has become one of the premier races to attend. Tekin drivers from all over the country to make a statement, let's see how they did.
Tekin factory driver Ryan Lutz was top of the class in qualifying, pulling off the "hat trick" tq'ing all 3 Pro electric classes this year at the PNB. Taking each round of 1/8 Pro E Buggy with Tekin teammates Joe Bornhorst, Phil Atondo, Max Flurer, Adam Drake, Dylan Gerard, and JM McGinty all in tow.  Lutz would continue to dominate qualifying taking the overall Tq position for the mains followed by Joe Bornhost(p4), Phil Atondo(p5), Max Flurer(p6), Adam Drake(p7), Dylan Gerard(p9), JM McGinty(P12), Shay Brand(P13), and Chris Viesins(p14) giving Tekin factory drivers well over half of the A-main starting positions! All drivers were using the Tekin Rx8 Gen2 and T8 Gen2 line of motors for this event proving their consistency, durability and speed was unmatched.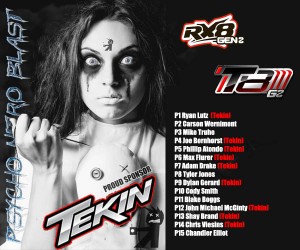 Double A-mains would prove exciting racing on the ever changing track. Huge divots, craters, hidden ruts would all play their part. Watching the video(courtesy of Neobuggy) you can watch cars jump out of sorts for what appears to be no reason at all!  Ryan would get out to a lead but the track would gobble up his car forcing an error allowing Carson Wernimont to take A-1, followed by Lutz, and Drake.
A-2 Lutz would lead from his Tq position but a bobble would have Wernimont collect them both. Lutz would battle back to the lead and take the win followed by Tekin teammates Max Flurer in 2nd, and Joe Bornhorst in 3rd.  The overall results would be dominated by Tekin equipment.
Ryan again dominated the 4wd SC qualifying taking each and every round with this Tekin Rx8 Gen2 Pro4 4600 powered Team Durango ride.  Tekin teammates Chris Viesins and Martin Harrison would join him in the A-main starting from P3 and P4 respectively.  Ryan would win both A-1 and A-2 with Tekin teammates Chris Viesins taking 3rd, and Martin Harrison taking 5th respectively.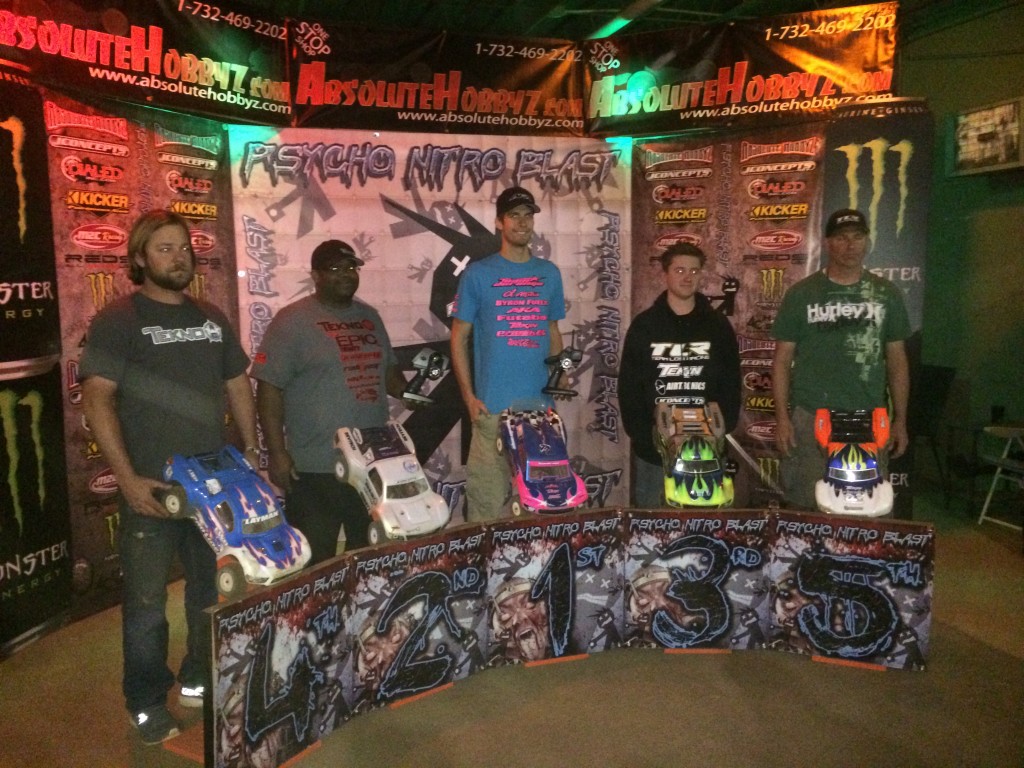 Ryan Lutz would again take Tq position with his Tekin powered Team Durango ride over Tekin teammates Max Flurer(p2), Martin Harrison(p8). Ryan would go onto take A-1 and A-2 for the overall win followed by Tekin teammates Barry Pettit in 2nd, and Max Flurer in 3rd for a full Tekin podium sweep!  All 3 drivers chose the Tekin Rx8 Gen2 esc and T8 Gen2 line of motors to power their respective rides to a podium spot!