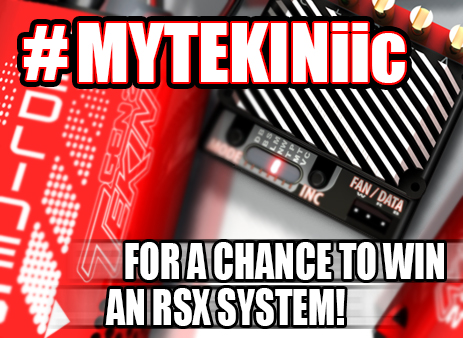 Show us your Tekin and we'll show you ours!  Post a picture of any Tekin product or Tekin advertising photobombing you and we'll show you some love in return.  Post that picture on Facebook, Twitter, Google +, or Instagram using #MYTEKINiic  and the winner chosen at random will receive a brand spanking new Tekin RSX Esc and Redline Gen2 motor of their choosing.
Tag the following pages for a chance to win a Tekin Hotwire with the winning system increasing your swag package by tagging us on the following pages:
Instagram:  Tekinracing
Facebook:  Tekin Racing
Google +:  TekinRacing
Twitter: TeamTekin
Contest ends Oct 31st 2014
Contest rules and info: The winner will be chosen at random and be notified via the chosen posts social media. The picture must include a picture of you along with a Tekin product, Tekin banner, Tekin wear item, or other to official Tekin item to become eligible. Winner shall agree to be used in any and all advertising rights regarding this contest. Winner authorizes Tekin to use their picture and likeness to be posted on social media as well as other sites at Tekin's discretion. If the winner chooses to send a follow up picture once the prize package is received their picture will be on the Tekin Facebook Fan Page for a week!