The 29th Annual April Fools race should be a "must attend" race for anyone what can manage the trip. With over 370+ entries the race was stacked with competition. Factory drivers from all the car brands were in attendance as well as many factory reps in house ready to offer assistance to anyone that needed it.  Calling the race was none other than world famous Jimmy Babcock.  The facility was in tip top shape and ready for racing with a very fun, fast and technical track that would be sure to separate the fast from the fastest.
Tekin was in attendance with Randy Pike offering help to anyone who needed it. Lots of v258 software updates were made and many tweaks helped anyone running Tekin go that much faster. Team Drivers such as Matt Olson and local boy Joe Eaton would take full advantage of the resources offered to stamp their names on Tq in both 17.5 2wd Buggy, and 4wd 13.5 Buggy for Matt Olson, and 13.5 2wd Buggy for Joel Eaton.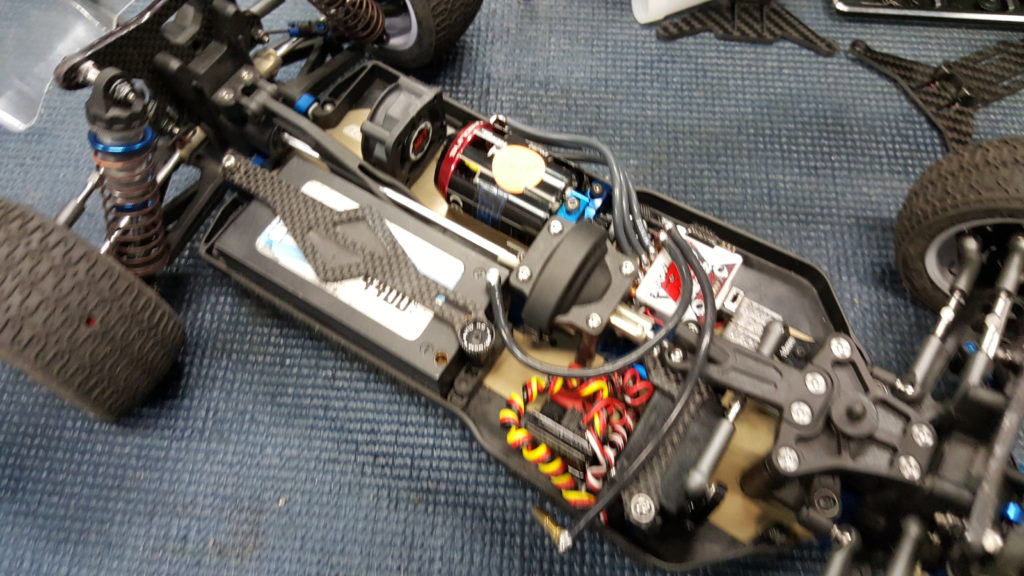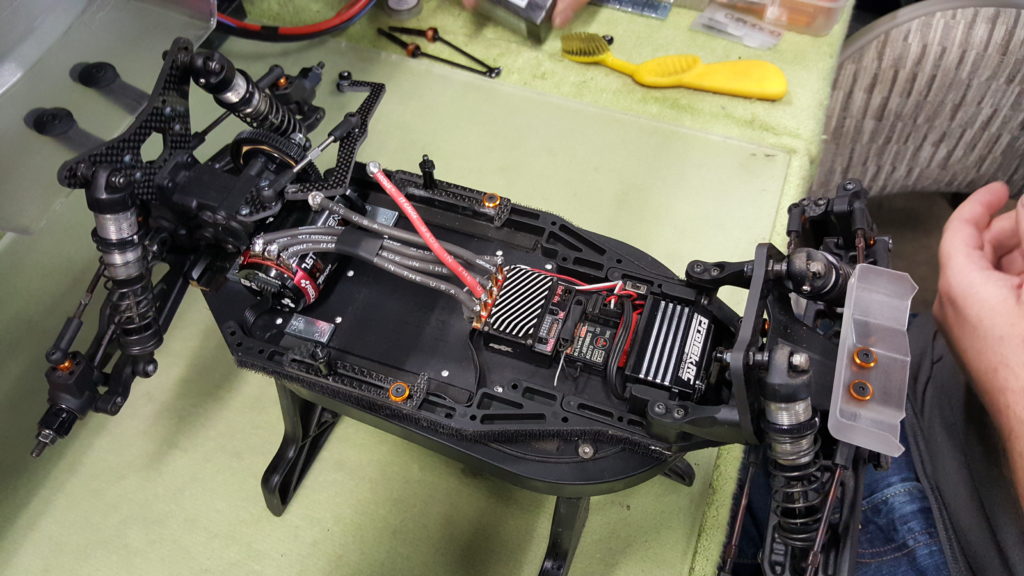 Matt Olson would dominate all 4 round of qualifying in both 17.5 2wd Buggy and 4wd 13.5 Buggy running his Tekin powered AE vehicles. Supporting a full host of MIP parts some yet to be released Olson was focused on clean consistent qualifying.
One of only a small handful of drivers successfully clearing the triple on the track in 4wd running the Tekin RS Gen2 and Redline Gen3 13.5 RPM motor equipped with a yellow high torque tuning rotor. Starting from the Tq position Matt would make an uncharacteristic bobble on the first turn allowing P2 Charlie Cavalier to take the position. The two would make contact putting Olson over the pipe into another lane. Matt would wait and give up not only the 2 positions gained, two additional positions to solidify doing the "right" thing and continue racing. Cavalier would make a mistake also over the right corner table top allowing Olson and the field to catch up. Olson would get by and simply check out on the field to claim the overall win!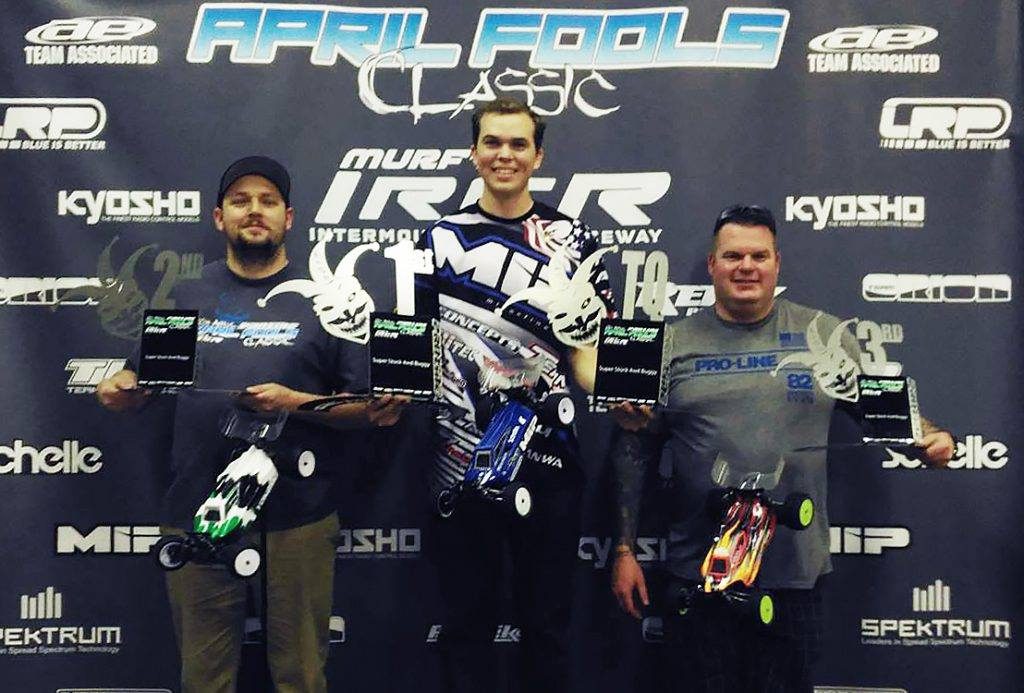 Olson would sweep qualifying in the 2wd 17.5 Buggy class as well. Again running the Tekin RS Gen2 ESC and Redline 17.5 RPM motor and yellow rotor.  From the Tq position Matt would run a great race making only a few small bobbles while the racing behind was simply intense. Jimmy Babcock had his hands full calling this race and did a phenomenal job doing so allowing Matt to get through traffic unharmed to take the overall win!
Tekin factory driver and local fast guy Joel Eaton, also the owner of Addiction RC would take the overall Tq in the 2wd 13.5 Buggy class. Joel's Tekin RSX Redline Gen3 13.5 RPM motor was equipped with a yellow rotor.  Joel would make an early mistake in the single A main format but would never lose sight of the top 2. Joel pushed causing errors in front of him. Cavalier would make a mistake and Eaton would sneak by with only 1 minute left. Eaton would put his head down tripling with only himself and Cavalier in chase even attempting this late in the race. Eaton would clear it fine with Cavalier spinning the tires and casing it on the last lap allowing Joel to cruise to the line winning the overall 13.5 2wd buggy title!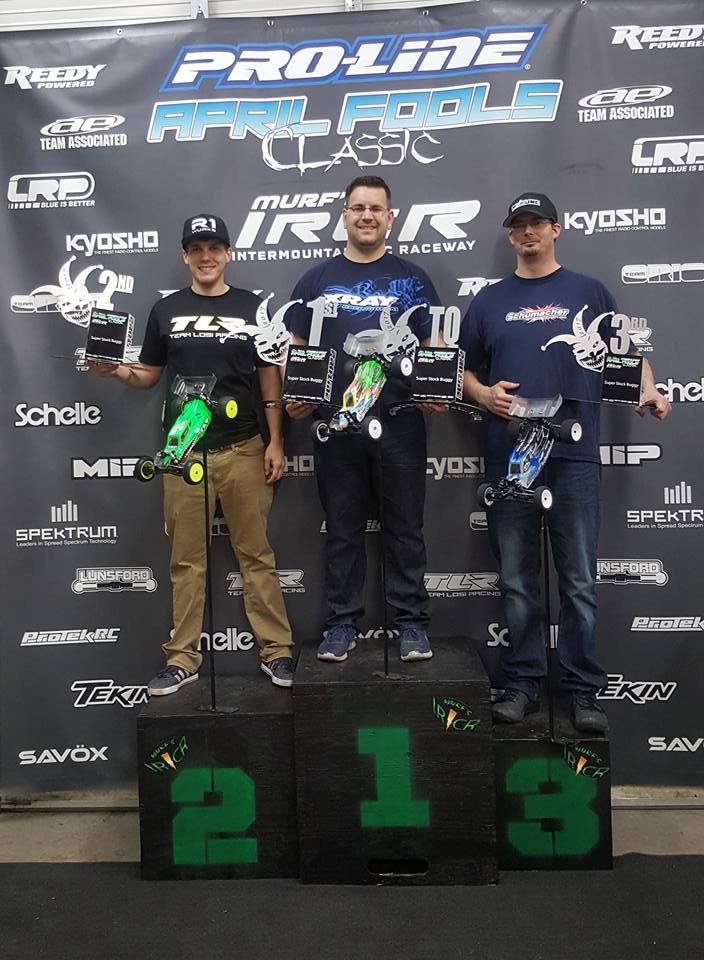 Tekin's very own team manager Randy Pike would also have some success over the weekend. Tq'ing the last round Pike would start P2 in the single A-main of 17.5 Racing Truck. Running the RS Gen2 Spec and Redline Gen3 17.5 RPM motor and  yellow rotor. Tq  Cliff Nicholson would make a first lap mistake opening the door for Pike to take the lead. Pike would have no problem taking the lead opening up a gap for the next few minutes over the field. 3 minutes into the main, Pike would get into some back traffic at the end of the straight and be off the track giving up his lead. This allowed Ron Reid to take over the lead. Both drivers managing to get through traffic for the most part. Pike would simply run out of time chasing Reid down and would have to settle for second overall.
Tekin pilot Mason Eppley would also have a great weekend finishing up 3rd in the 4wd Mod Buggy triple A's! Mason running a Tekin RSX and Redline Gen3 6.5T motor in his Xray buggy.
The entire team was running the latest v258 software which is available here.
A ton of pictures can be found here.
"I would like to personally thank the entire IRCR crew for hosting such a great event. The Tech was ran professionally and efficiently which was awesome.  Jimmy Babcock called some great racing and ran a tight on schedule program which was refreshing and fun to watch along with.  The track was in top form every single day and having owned my own track, I can appreciate the amount of work that went into this race.  If you were at this race let's all do them a favor and get onto Google or Facebook and leave a 5 star review for this crew and facility. I know I'll be back for the 30th annual event next year."  Randy Pike