The 2014 Alabama Manufacturers Shootout 5.0 in Cullman Alabama has been completed and was one awesome event to attend. With 600 entries getting practice on the track was difficult to say the least. If that was not enough Thursdays practice was cut short due to a storm and power outage. The seating practice never happened so on Friday Jimmy Babcock had to run a tight race program to get the 600 entries qualified.
Tekin factory drivers riddled the Pro E-Buggy class at the AMS this year. Adam Drake would take the overall Tq of the class. Starting off the Drake would start the race running a teammates car and fall back early on. Tekin teammate Joe Bornhorst would inherit the lead and try to put some space between him and the pack. Tekin powered Ryan Lutz would slowly chip away on his lead though and the two would take it down to the last corner, with Bornhorst taking the win. A2 had Tq Adam Drake out in front with Bornhost and Lutz in tow for the first few laps. Drake would bobble giving Bornhorst the lead. The two would come together on the straight allowing Lutz to capitalize taking the lead. Lutz would run out front trying to get some distance on the field. Bornhorst would chip away and take the lead with about 2 minutes to go after Lutz would tap a pipe. Bornhorst would fend off a late charge from The Drake taking A2 and the overall win! Ryan Lutz would take 2nd overall. Joe Bornhorst chose the award winning Tekin Rx8 Gen2 esc coupled with a Tekin Gen2 T8 1900kv motor while Ryan Lutz chose the T8i 1950kv motor.
Tekin factory driver Dylan Gerard was able to TQ all three rounds of qualifying in 4wd Short Course. Resetting TQ every round of qualifying and was the only truck to finish on a 10 lap run. Gerard  would go onto win A1 and A2 and was also the only truck to finish on 16 laps in both mains. Gerard chose the Tekin Rx8 Gen2 and Pro4 HD 4300kv motor in his TLR SCTE truck.  Tekin teammates Chris Viesins and Martin Harrison finished up 2nd and 3rd both also running the Tekin Rx8 Gen2 esc and Pro4 HD motor! Sean Ramos also chose Tekin to power his Tekno SC Truck to a 4th position.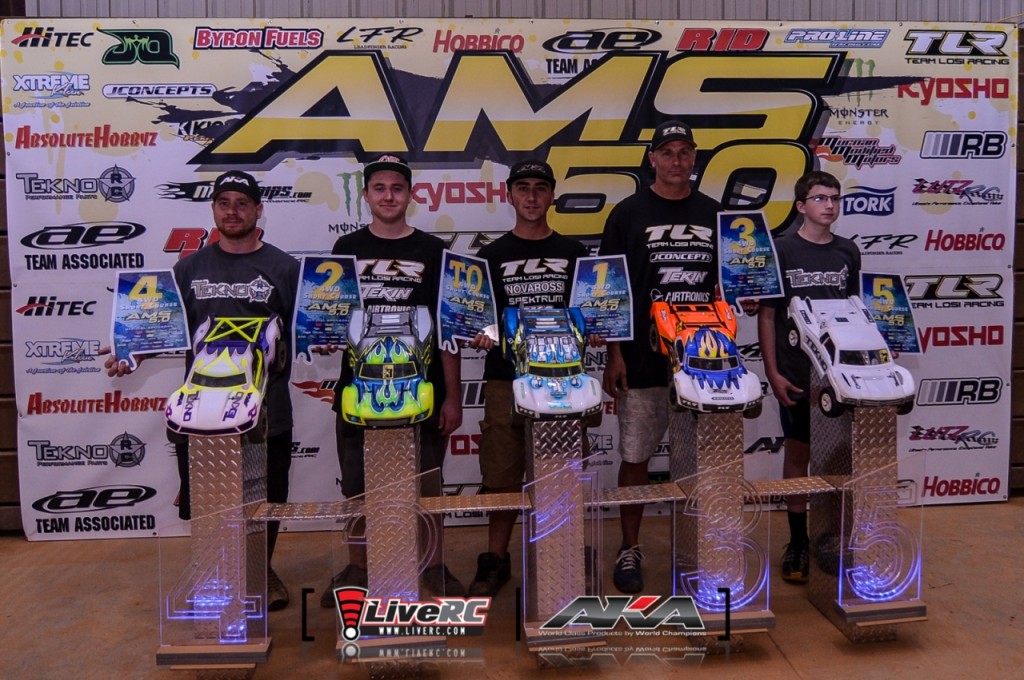 Tekin powered Chris Viesins  TQ'd 2 out of the 3 rounds of qualifying for 1/8 E-Truggy which secured the overall TQ spot. In A1 of 1/8 E-Truggy Viesins managed to lead throughout the whole race and take the win. In A2, Viesins would repeat this win from tone to tone again to take the overall win in the 1/8 E-Truggy class! Tekin teammate Martin Harrison would take 3rd overall, Paul Ciccarello 5th.  The winning combination yet again was the award winning Tekin Rx8 Gen2 esc and T8 Gen2 2000kv motor.