Tekin factory driver Darren Lord is the new 2wd Stock Buggy Champion for Australia in 2015.
Darren recaps the weekend:
"With limited practice cause the rain effected both practice days I decided to stay at work and not attend.  Getting updates from guys up there I knew driving on the wet surface was not going to be any advantage at all cause the weather should be fine for race days I made the decision to just attend race day and use the 1 practice round of 5 mins to learn the track before going into qualifying.
Track was back to high grip and was a real fun track and after practice one I was 6th on the time sheet but only 0.1 of fastest lap time. Slight battery position change and I was ready and feeling confident going into 4 rounds of qualifying.  I was running a YZ-2 Yokomo buggy with a brand new Gen2 17.5 motor and Gen2 Rs ESC , the power and smoothness of this combination was awesome geared to 72/34 had plenty of speed and punch.
I TQ rounds 1 , 2 and 4 after I tried a few things in round 3 which did not work so I went back to original set up, so after securing the TQ it was onto the finals to be best 2 of 3 to count.
I admit the pressure got to me with silly mistakes in final 1 and with 2 in the 1st lap I dropped to 9th after lap one , this got me thinking wow that's not good so I put my head down and for the next 4 minutes I passed 7 other cars to get back to secure good points in 2nd place and walk off a bit disappointed but I knew that's a decent result to start with.
So with final 1 out of my mind and on the grid for final number 2. Deep breaths and on the sound of the tone I drove away from the field and had a nice lead by the end of lap one and went on with no crashes to win final 2 and was right back to lead the points over all going into final 3
Final 3 , and again at the sound of the tone I was away and had a great little buffer when I heard that car 5 who was the only person that could be beat me on points was involved  in a couple of crashes and to be honest after I heard this on the scoring update I went into cruise mode knowing I could not lose the title from here on , but I did ease of a tad to much that let 2nd place catch up and I had to pull my head in and drive away from the field to secure the win and the National Title for 2wd Stock Buggy.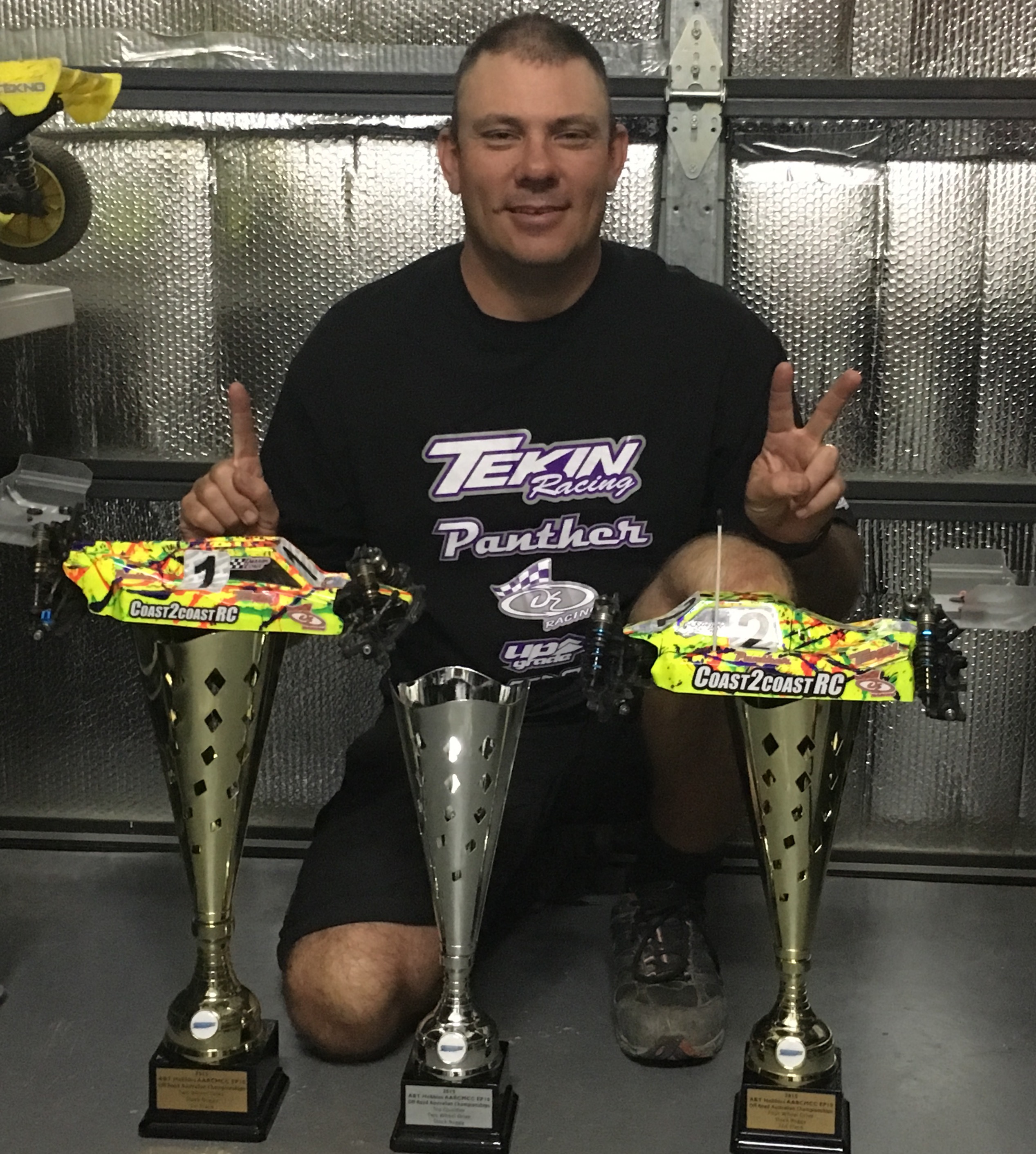 Day 2 race day is 4wd day
Again with 1 round of practice in the morning then into 4 rounds of qualifying I thought I should be on the pace and I was just off pace but finished in the top 5 after practice.
Slight change in set up and I was ready for qualifying with my Bmax3 running a Gen2 17.5 motor and just the RS Gen2 Spec ESC again power and smoothness was awesome gearing for this buggy was 72/33 with motor timing.
With a very heavily sugared track set up was a challenge and I just did not get it quite right and I ended up 2nd after qualifying with 2nds in 3 of the 4 rounds.
Not the result I was looking for but still starting from 2nd on the grid was going to be a good position to chase the leader down I thought.
Final 1 with the track breaking up a bit I found a double , double section was playing havoc with my line through that section and it would end up making me crash there in both finals 1 and 2 where I would have to come back through the field to chase but the leader was gone.  Final 1 I did get back to 2nd and final 2 I could only get back to 3rd
So with 1st place secure and him not running the 3rd final it meant that the final positions were not secure. So with no one in front of me and a race plan changed for the section that I was crashing on everything went to plan and honestly I believe if I had made the adjustments in the earlier finals results might have been different but that's why it's called racing we are all way learning but onto final 3 with not even 1 bobble it was a perfect run with me winning final 3 and securing 2nd place with a faultless run and winning by over 10 seconds was a great end to a fantastic weekend at a national titles.
So final results were 2wd Stock Buggy TQ and Win, and 4wd Stock Buggy q2 and 2nd overall.