This past weekend the Pembrey hosted the 4th round of the E-buggy and Truggy Nationals. Arrving a day early we were treated with darker and darker clouds the closer we got to the arrival point, with drizzle and then rain greeting us as we arrived. Arriving in the morning with a few puddles and muddy spots on the track the club members were out the doing there best to give us the best conditions to hit the track in practice, with very moody grey dark sky's we were at this point just happy there was no rainfall.
Practice was up and running and for the E buggy class there would be 2 rounds of 6 minute practices followed by 3 round of qualifying with your best 2 to count, then a single leg main A final. Practice was a little tough as the wet mud sections had caused the cars to pick up dirt on the cars making them a little heavier and not running at there full potential, however with a mixture of uneven jumps and surfaces, for now it was just about feeling your way round and knowing what was where. With practice all said and done all of the guys were happy, ready for qualifying and praying the rain to stay away.
Round one came and with a mixture of happenings involving mistakes and even a rather large drop of rain the cars picking up a lot of extra weight and the hard packed already slippy sections were now lick ice, it was Darren Bloomfield who managed to keep it all under control and adapt to the ever changing conditions to top the time sheets with his Tekin RX8/T8 Gen2 2050kv powered Agama A-215e just four seconds ahead of Nemo racing teammate Tony Truman.
With the nerves of Rd1 out the way for the guys; a slight tweak on tire tread Darren was ready to head out and attempt to secure his overall TQ for the day. With this in mind Darren's main aim for the day was a podium finish as to secure him the overall championship win for the 2016 e buggy national tittle. He was successful and went on to take Rd2 with an ever drying track and improving his first Rd time by some 16 seconds. This time it would be Nemo Racing Jonni Skidmore who would come home second some 8.5 seconds behind Darren. Darren would start pole on the grid for the main A, with a clear track ahead of him to start his approach on that tittle shot.
Thankfully with no further rain and actually the sun breaking through the clouds it was to be a beautiful start come the A main. A warm up lap in the books and cars being called to the grid, Darren with the confidence his car and system was ample capable of making it to the end of the 12 minute final; he set off at the tone with a few hiccups along the way. Marshals jumping in front of his car stopping him dead for a couple of seconds and then a further few seconds lost in a mix up of back markers. With all these issues Darren would lead from tone to tone, with Jonni Skidmore moving himself into 2nd place early on had a small push for Darren. Darren biding his time saving tires and battery power, Jonni would cross the line second for another respectable podium some 10.5 seconds behind Darren. The 5th and final round to be held at Darren's home track in Slough in just a few weeks, Darren will roll out and enjoy the day as champion.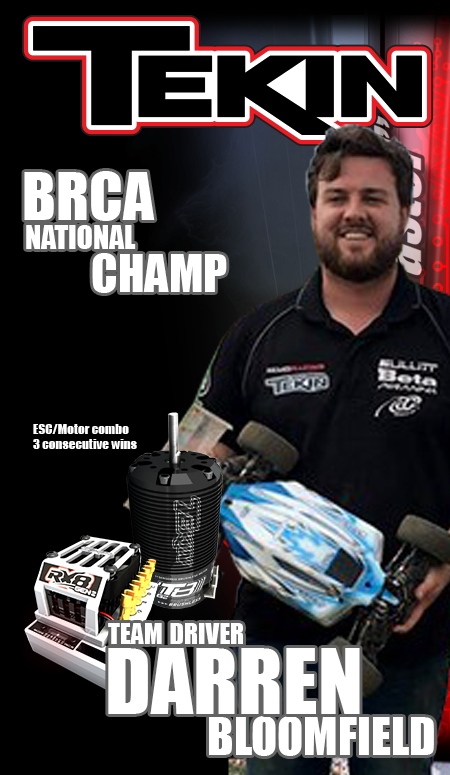 With a sigh of relief Darren Bloomfield takes the TQ and win on the day and as mentioned earlier with these results is your 2016 BRCA E-Buggy National champion! Darren would like to thank Nemoracing, AgamaRacing, Beta Tyres, Tekin Racing, KoPropo servos, he would also like to thank boss and team manager Jon Hazlewood as well as team manager at Tekin Randy Pike.
The equipment he used to achieve this huge goal was:
Agama racing A-215e buggy kit
Tekin Racing Rx8 Gen2 speed controller
Tekin racing T8 2050 brushless motor
LRP 7000mah lipo baterries
This is the third consecutive BRCA National Champion win for the Tekin Rx8 Gen2 ESC and T8 Gen2 lineup of ESC's and motors!  Tekin would like to congratulate Darren Bloomfield for his Championship Title!