The new Ford Bronco is finally out after years of anticipation and impatient waiting by many of us. I've been wanting to build a truck using the body I picked up and it's all coming together now. The Element Enduro is the chassis of choice for the Bronco build and yes, we are going with the IFS as the real 6th Gen Broncos are IFS. I'm actually looking forward to seeing how it trails, this will be my first IFS trail rig. I've decided to go for an OEM Wildtrak type stance, which means minimal "lift" and tires that scale out to roughly 35″ or so.
CHASSIS
The Enduro Builder's Kit, which is now on version 2 since I built mine, is a great kit. It's got all the essentials, but leaves wheels, tires, body, bumpers and all that stuff up to the builder. This is a great option if you have a custom body in mind.
The IFS kit (seems to be discontinued now, RIP) isn't for everyone. There's lots of debate as to which works better, IFS or solid axle and I won't even get into that. I wanted IFS for this build to keep true to the 1:1 2021 Bronco and I am curious as to how it will perform on the trails. I'm always up for a challenge and if that's what the IFS gives me; nice.

The Knight Customs modification parts raised the whole IFS up closer to the frame rails which with a little tuning and tweaking will give better ground clearance under the diff and put the ride height at a more stock-ish level. Remember, I'm going for a Wildtrak with this one so it's supposed to be on 35-ish tires.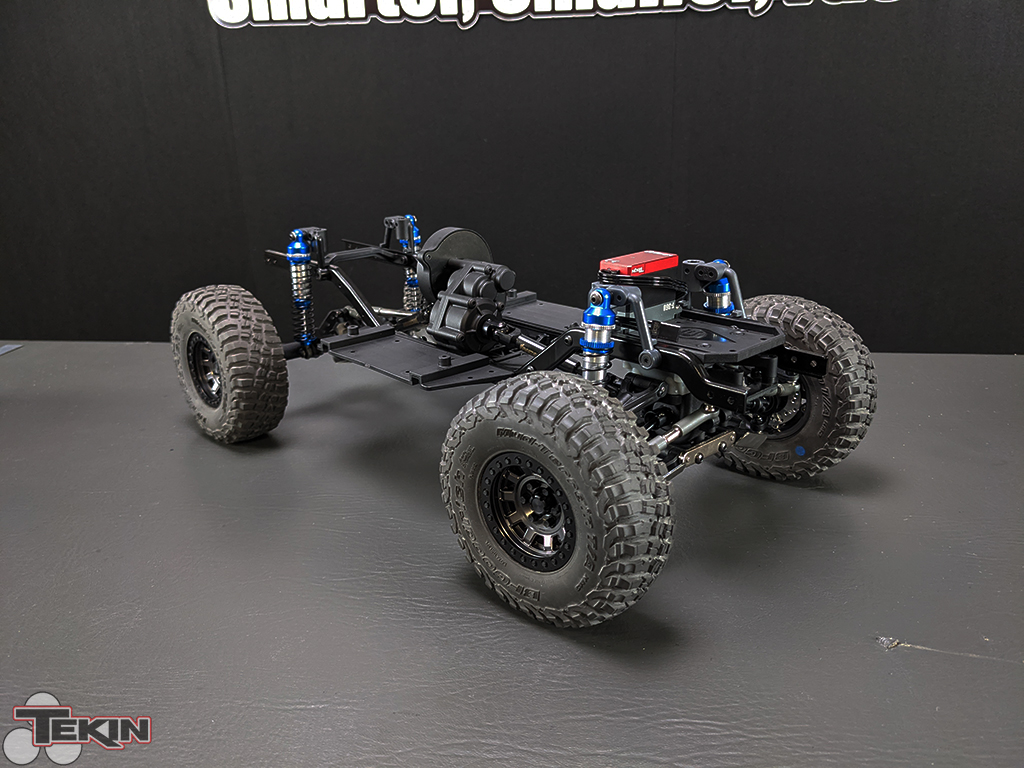 The Stealth X transmission provides 3 different options for gearing. Equal front and rear drive and two overdrive options, which are accomplished by under driving the rear axle. The transmission is essentially two 3-gear transmissions smashed together, which is why we can change the gear ratio to the rear axle. The gears are machined steel, so we shouldn't have any issues with strength!
WHEELS & TIRES
I can't roll around on stock wheels, so Vanquish to the rescue. The 1.9 KMC Tank are a licensed replica wheel available in multiple color options. I chose grey with black rings and opted for black scale hardware to finish them off. .350 hubs and Beef Tubes SLW Brake Disks set the track width dang near perfect, plus scale points for brake rotors. SSD Hub nuts finish off the scale look nicely se we don't have an ugly locknut visible.
Tires are 4.19″ Pro-Line BFGoodrich KM3 Mud Terrains, which are a Class 1 legal tire if you're into that competition side of the hobby. These scale out to somewhere close to a 35″ tire under the Bronco body, so they should give me that Wildtrak look I'm after and perform well at the same time.
Foams are 4.5″ Crawler Innovations Lil Novas, Heavy Weight Comp Cut Inner with Firm Outer. I figured this rig would be on the chunky side being a hard body, so I'm giving the new HW foams a shot. It'll likely see mostly parking lots and easy trails anyways.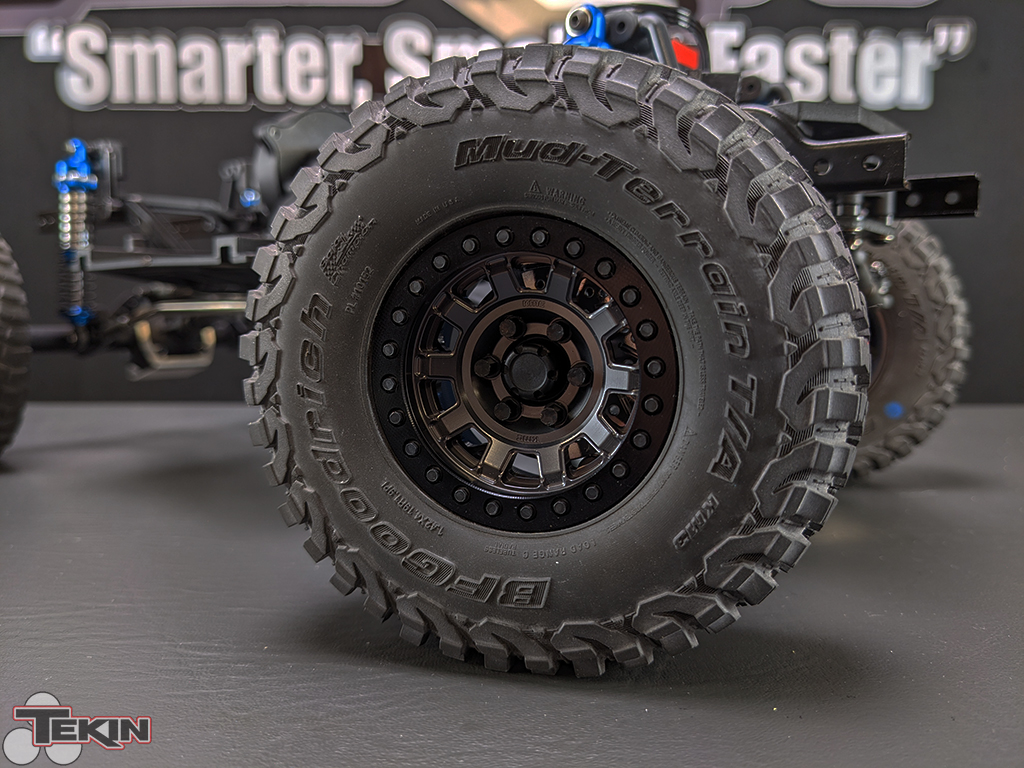 That's it for now, check back later for the next episode and more progress!
PARTS USED
Element RC
Enduro Builder's Kit
Vanquish Products
1.9 KMC Tank Grey/Black
SLW Hubs Black
Incision Drive Shafts

Proline Racing
1.9 Class 1 BFG KM3 Mud Terrain

Crawler Innovations
4.5″ Lil Nova Heavy Comp/Firm

Knight Customs
IFS Brackets

Beef Tubes
1.9 SLW Brake Weights Aluminum