The 20th Episode of Tekin Builds brings us a Tekno RC EB410.2 build! Join in on building a buggy in 22 minutes (ha, if only) and have it ready for our RSX Pro, 6.5T GEN4 and T-190 installs. I'm pretty excited to drive a Tekno and the EB410.2 is a stout little buggy. Durability shouldn't be an issue and I can tell this car is going to eat rough dirt tracks for breakfast judging by the thickness of the suspension arms, the 13mm big bore shocks and the 3 fluid filled diffs. It's like a shrunk down 1:8 scale buggy platform! The build went extremely smooth and I can tell working on this car is going to be very straightforward with all the easy access to the diffs. Tuning options galore, we should be able to dial this buggy in for any surface.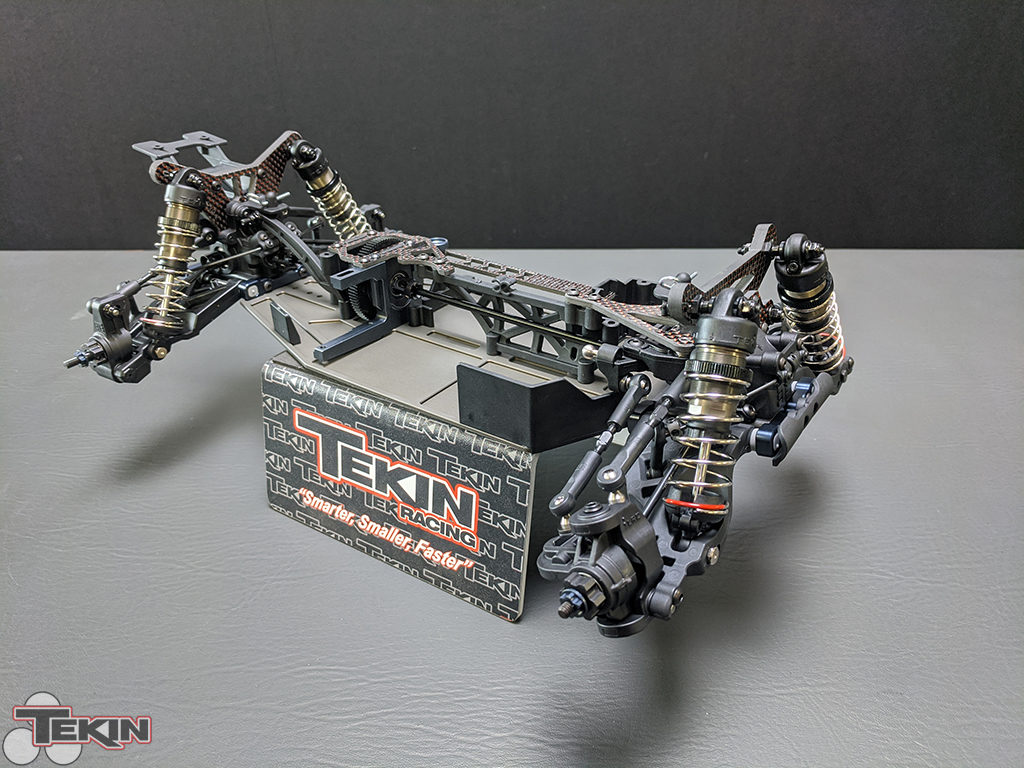 The Build
I love carbon fiber, so I ordered every part Factory RC makes for this chassis in red weave. It looks fantastic and will match all the red of the Tekin electronics that will be going in this car. Plus I'm building this one as a twin to my own EB410.2 for Jim "The Prez" Campbell, so I definitely can't have a cooler ride than him. I may even have to make this one a tiny bit faster than my own, you know, for fairness.
Electronics
The system to use in this car for modified racing starts with our RSX Pro ESC. This controller is wrapped in an aluminum heat sink housing with optional fan shroud and cooling fan for extreme setups or hotter outdoor temperatures. Typically I never run a fan on this ESC even down to a 6.5T motor, but during the hot summer months I will add one just to keep the temps down, because cooler electronics last longer for sure! The key is to not NEED a fan to finish a race. If your setup relies on the fan, you probably need to make some adjustments.

The 6.5T GEN4 motor is not quite available yet as of 05-01-2020, but fear not; it is coming very soon! Make sure you check with your hobby shop and have them order, they will go fast!

For steering I have chosen a T-190. This is a full size servo and packs speeds up to .05sec/60deg and real torque numbers of 241oz/in at 8.4V, so it should be plenty fast and hold our steering exactly where we want it. Since we aren't running stock, I am not too worried about the extra 17-ish grams of weight and the standard size servos have a stronger gear train since they are thicker and there are only 3 axles instead of 4 in the Lo-Profile variants. Tekin servos also come with a machined aluminum servo arm.
Parts Used
Tekin
RSX PRO 1:10 Modified ESC
6.5T GEN4 Brushless Motor
T-190 Servo
HotWire 3.0

Tekno RC
EB410.2 1:10 4WD Electric Buggy Kit
Tekno Shock Pliers

Factory RC
EB410 Carbon Front Shock Tower
EB410 Carbon Rear Shock Tower
EB410 Carbon Front Camber Plate
EB410 Center Diff Fan Mount
EB410 Carbon Steering Top Plate
EB410 Carbon Battery Strap