Street Outlaws, Eliminators or No-Prep cars are becoming more and more popular these days so I decided to jump into the unknown and put a car together. Drag racing is one form of RC I really have no experience with, so when I started seeing bodies, wheels and tires coming out for this class of car I knew I needed to build one. With a little research and chatting with some pro racers about these cars, I put a parts list together and started the build.
CHASSIS
The chassis I am using for this Eliminator/Outlaw build is a Pro-Line Racing Pro-2 SCB. I have had this car at the shop for show display and product photos for a few years and it is a perfect base for the new build. Quite a few parts have to change on the Pro-2 to make it fit under the Octane body I chose to go with. In stock form the Pro-2 is Pro-Line's Pro-Trac width, so it is 10mm wider than other stock short course platforms and because of that, the a-arms, suspension links and rear axles all have to be swapped out to bring the track width in. This is a pretty easy conversion since the Pro-2 is Slash-based, so many Traxxas compatible parts will fit. I chose to go Bandit width, narrower than Slash width and it is pretty easy to achieve. I used RPM a- arms, but Traxxas a-arms can also be used.

I also had to swap the front shock tower for the truck shock tower so the extended body mounts will fit. These mounts are 100% necessary to fit one of these types of bodies to a short course chassis.

*The only modification needed is to drill out the front hub hinge pin hole. The Pro-2 stock outer hinge pin is a smaller diameter, so to keep the front spindle and hub and make it work with the RPM arm I had to drill it out and use an M3 screw for a temporary hinge pin. I ordered STRC outer hinge pins so we will see if that works out.*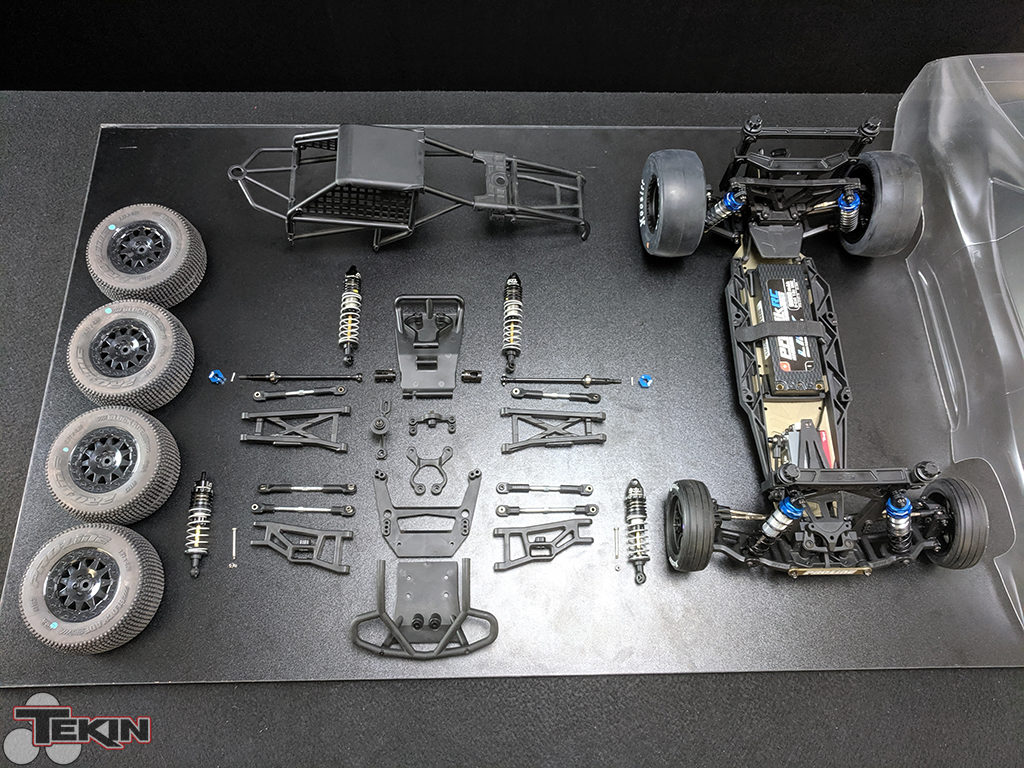 PARTS LIST
This is everything I used in converting the short course over to a narrow width, lowered setup with a few upgraded part options.
RPM Bandit Front Arms – 8049
RPM Bandit Rear Arms – 73282
Bandit VXL Toe-Links – TRA2445
Bandit VXL Front Camber Links – TRA2444
Bandit VXL Rear Camber Links – TRA2443
MIP X-Duty CVDs Bandit – 18390
Pro-Line Pro-Trac SC Front Shock Tower – 6062-03
Pro-Line Extended Body Mounts – 6070-00
Pro-Line Pro-Spec SC Front Shocks – 6308-30
Pro-Line Pro-Spec SC Rear Shocks – 6308-31
SHOCKS
I ditched the stock shocks on the Pro-2 chassis and opted for Pro-Line Pro-Spec big bores. I got the fronts and rears for short course chassis and limited all 4 internally to bring the ride height down, which also increases the spring stiffness. The rears are limited 28mm and that left me with just about 10mm of rear suspension travel. Fronts are limited 10mm and the chassis ride height is about 18-19mm at RTR weight. I will be putting some bump stops on the fronts and I plan on running 90wt oil in all 4 shocks. We will see how this setup works, it's a starting place to tune from! I may order another set of front shocks to try on the rear.
WHEELS & TIRES
Pro-Line launched the Hoosier Drag Slick and Pomona wheels specifically for these kinds of builds. The front wheel is a 2.2 1/10 Buggy size wheel and the rear is a 2.2/3.0 Short Course style wheel. The front tire is a narrow slick and the rear is a super-wide slick and both sport the white Hoosier logo. The compounds available are Pro-Line's S3 Soft and MC Clay. I chose to go with Clay and may pick up a second set of the upcoming belted versions of these tires!
The whole conversion process didn't take long at all and I now have a starting point for tuning. The next episode will cover installing and setting up the RS PRO Black Edition, I'll choose a motor, set up the T-130 steering servo, paint the body and see about getting some sway bars fabricated to keep this car tracking straight. We will also take a look at the custom wheelie bar we designed and 3D printed for this car, hopefully it will get the job done! Stick around for the next part of the build!