Our first ever Fan Photo Friday competition went down over the past couple of weeks and after narrowing the field down to 4 weekly finalists, a winner was decided by their peers in a public vote! Kyle Joseph submitted this fantastic custom 6×6 LC70 Adventure build in week one and I knew it would be a contender.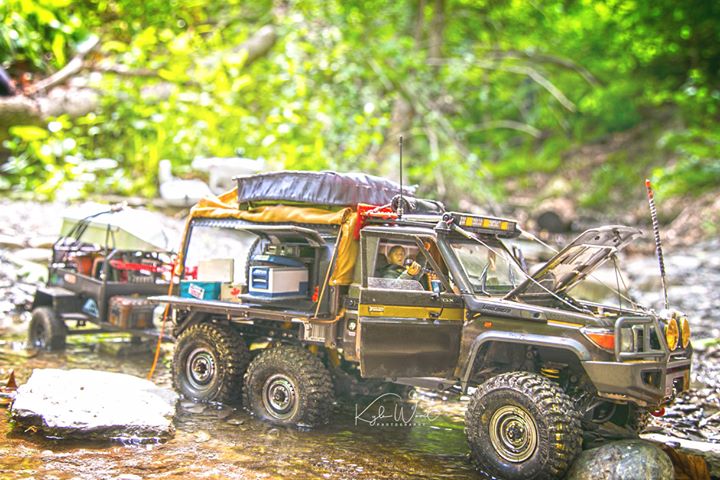 It's hard to even know where to start looking at this fantastic rig, but we will start with the body. Kyle used a Killerbody LC70 (Landcruiser 70) and upgraded it heavily with opening doors and rolling windows. Yeah, the windows roll up and down! That is some extreme scale detail and going the extra 10 miles that send a build over the top.
There are details everywhere you look on this rig. Look at all the stuff on the dashboard and peep that engine bay! R3ScaleDesignz did a great job on this V8 turbo diesel engine and there are also parts by VS scale to complete the bay. You could easily be fooled by this creation into thinking you're looking at a 1:1 size off road machine.
The chassis is a GCM CMAX sitting atop TMX Axles with a custom one-off mid axle pass-through designed by GCM Racing. Pushing the 6×6 Toyota around are a Tekin FXR and a T35HD Brushed motor and the electronics don't stop there. There are 2 Killerbody light controllers running the 45+ LEDs inside and out, so night running is definitely something Kyle does with this truck! There are even two WORKING solar panels on the roof with auto-sensing LED for the canopy. Yeah, you could say that's pretty awesome. The hours upon hours that went into creating this definitely show everywhere you look.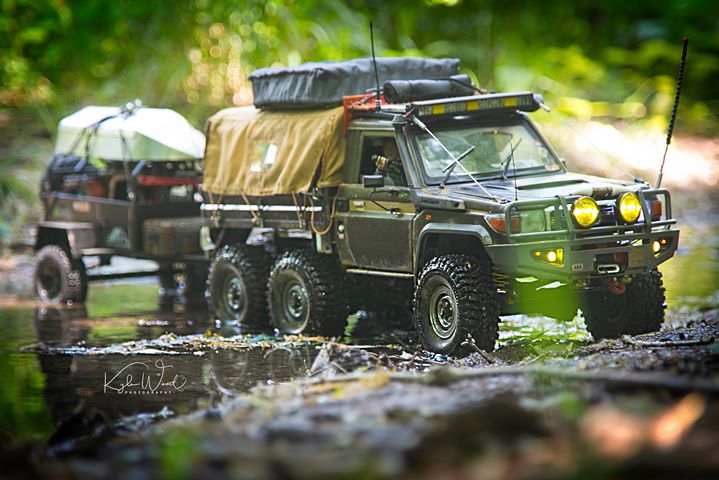 Kyle has multiple trailers it looks like, but the RC4WD Adventure trailer is just too cool. It's all kitted out with tons of scale outdoor gear and he also has an RC4WD roof top tent on the canopy of the truck. The build was based off the real life 1:1 Megatourer by Patriot Campers and I highly encourage you go check that build out to see where some of his inspiration came from! There's also a tribute to Steve Irwin in this build and I think we can all agree; Kyle, you did a fantastic job mate!
Kyle's build is over the top and most definitely deserves to be crowned our first Fan Photo Friday king. All the hard work and dedication shows and he's now the proud owner of a new BXR Element Proof rock crawling ESC! Keep up the good work Kyle and enjoy that new BXR! Hopefully we will see another creation in the future running the new ESC!