Heritage RC Park in Chula Vista, CA hosted Round 2 of the Pro-Line Championship Series. Like Round 1, Round 2 had 70+ entries, and we would run 7 minute qualifiers. The track was watered every other heat.
The competition for this round would include J.D. Mora of LRP, TLR's Don Vinkemulder, Mugen drivers Robert Wickham, Jaime Boquiren and Felipe Martinez, Darin Rogers of Tekno RC and some very fast local racers.
1/8 Scale E Buggy
Luca Sanford recaps: "For both qualifiers of E Buggy, I opted for a fresh set of Soft AKA GridIron IIs, and it was a good choice. The car was very planted, and easy to drive. In Q1, I had a perfect run, and would get the first round TQ. In Q2, Mora pressed me hard for the first 5 minutes of the 7 minute qualifier, but I ran mistake free. I just missed my first round TQ, but would start first in the 10 minute A Main.
I got a great start in the Main, and pulled out to an early lead over the field. My Kyosho MP9e TKI, with the Tekin RX8 Gen2 and Redline T8 Gen2 1900 motor was fantastic. The AKA GridIron II tires on DE Racing SpeedLine Plus wheels were amazing. I ran the entire 10 minute Main mistake free, and finished on top of the podium."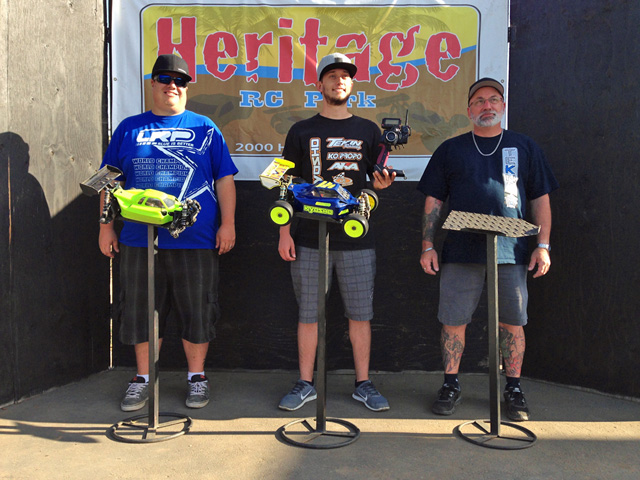 1/8 Scale E-Buggy Results:
1. Lucas Sanford (Tekin/Kyosho)
2. J.D. Mora (LRP)
3. Darin Rogers (Tekno RC)
"I would like to thank all of my sponsors for making it happen: Sanford and Son RC, Kyosho, KO Propo, AKA, DE Racing, Tekin, TTN Racing and Upgrade RC." Lucan Sanford