The East  Coast Race Against Cancer held at McCullough's RC Raceway is a race not to be missed in the Northeast. Not only  for the atmosphere of such a great event, but also for some of the best regional competition that you can find. This year's event drew  just over 250 entries among a number of different classes, the biggest  being the 1/8 Electric classes. Tekin factory driver Joe Bornhorst checks in:
"The schedule for the weekend was practice on  Thursday, practice and the first round of qualifying on Friday, 2
rounds of qualifying on Saturday, and main events on Sunday. As the  weekend started, rain was a major worry of most people attending. With  some rain coming down on Wednesday night and Thursday morning, the
track was soaked and practice would be delayed a couple of hours. But  with the track crew working diligently, we would be able to get on the  track in no time. The rest of the night along with Friday morning was spent doing the normal things like trying different tires, working on  setups, and learning the layout. I made a few small changes to both of  my cars, but didn't go too far from what seem to be becoming my "base"  setups.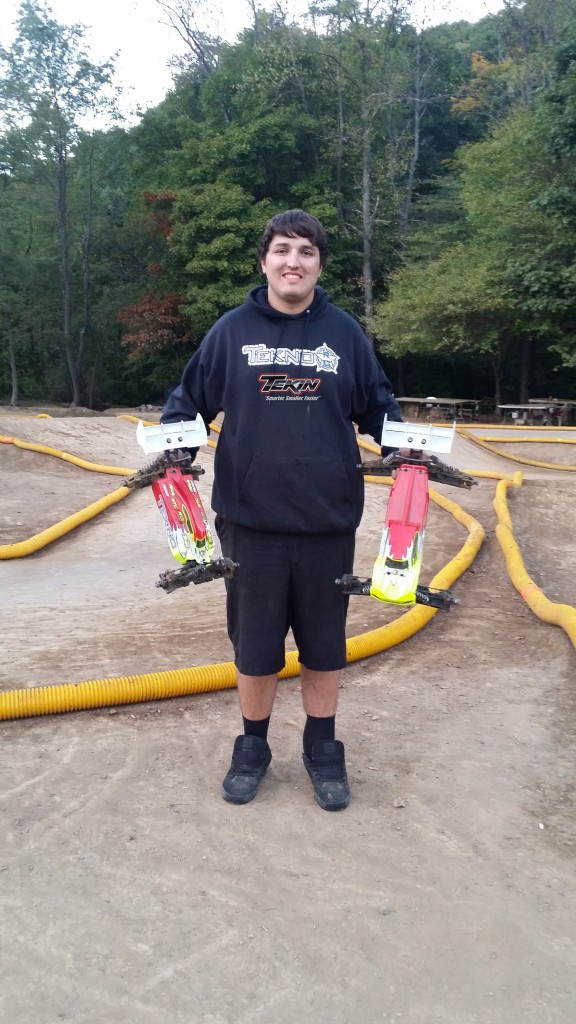 On Friday, the first round of qualifying was set to go  at 1 p.m. and would go on for a few hours as we had over 20 heats to  get through. The round went smoothly, and as the sun began to go down,  the overnight TQ's were set. I was able to get a clean run in both  E-Buggy and E-Truggy and set the pace early on in both. Since this  race was done by Rocket-Round, anything could happen the next day, but  I was feeling very confident with both my Tekin powered Tekno EB48.2 and ET48 vehicles for  the last two rounds. Saturday's qualifying would go much like the day  before. With both of my cars being on point, along with a couple more  clean runs, I was able to set the TQ pace in both classes!
Sunday morning had come, the mains were set, and  everything was ready to go. Finally with some good weather, the track  was drying out much more than it had all weekend long. After all of my  car prep was done, I spent most of the day watching some races, paying  attention to grip levels, and walking the track every chance that I
got. Since the weather and track were both so different, I  contemplated making a few changes, but ended up deciding to just go up  in tire compound. The Buggy main was up first, so I used the warm up  as a quick test for the harder tire. I decided that I was definitely  better, so I stuck with it. This also helped me for the Truggy main in  which I made the same change. Luckily, both mains went exactly how I  wanted them to, as I was able to pull away from the pack and put in two very solid and clean runs to bring home wins in both classes!
The race couldn't have gone any smoother for me, and I  was glad to have such a good weekend to debut my new Tekin powered Tekno cars! I  would like to say thank you all of my teammates for the help all  weekend, and also a thank you to all of my sponsors which include:
Tekin, Tekno RC, Magic Hobbies, AKA, MIP, Avid, SMC Batteries, PT RC Racing Oils, B-Fast, The Radio Impound Podcast, and Double Crossed Designs.