You can bind multiple HotWire devices to your mobile phone or tablet for quick connection to multiple ESCs. Follow these instructions to bind your HotWire with your phone or tablet and start tuning your Tekin ESC wirelessly!
​

Plug the HotWire 3.0 into the Data Port on your ESC. Double-check the polarity, Black (-) is always towards the outside of the plug!
​
Turn your transmitter on first, then turn on your ESC.
​

Open the HotWire App on your mobile phone or tablet. If you have not downloaded it yet, head over to our Downloads.
Click the Menu button in the upper left:
​
​

Click the 'Bind' button on the left sidebar menu to open the Bind Manager. This is where you can name your HotWire devices and manage them:
​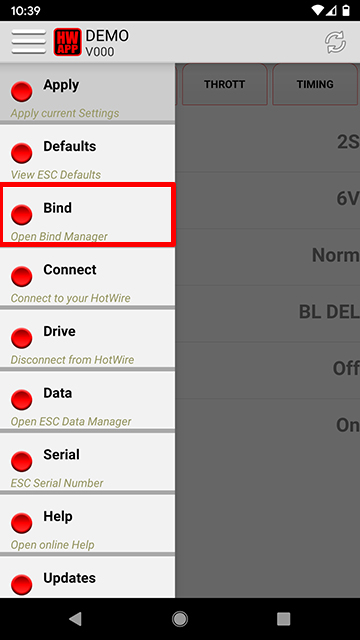 ​

Select 'Bind New HotWire':
​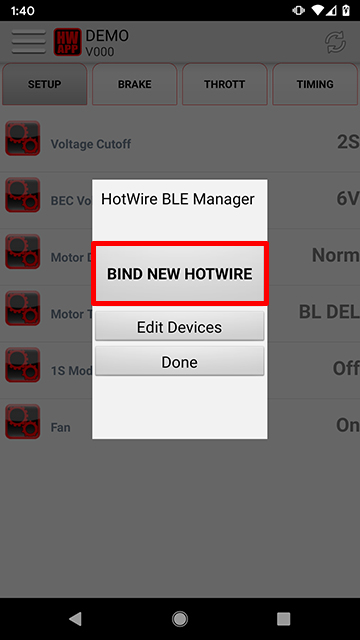 ​

Press and hold the red button on the HotWire 3.0 until the right Blue LED begins to blink:
​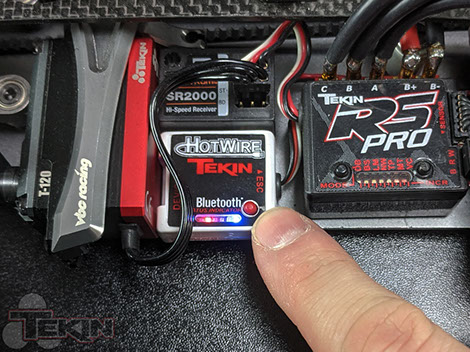 ​

Press 'Start Bind' in the HotWire app on your mobile phone or tablet:
​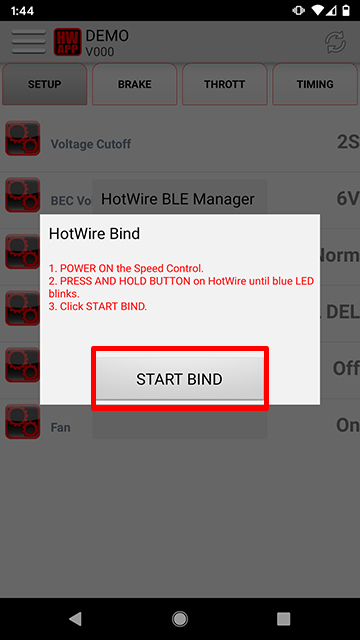 When the HotWire was successfully completed the binding process, cycle the power on your ESC and click 'Done':
​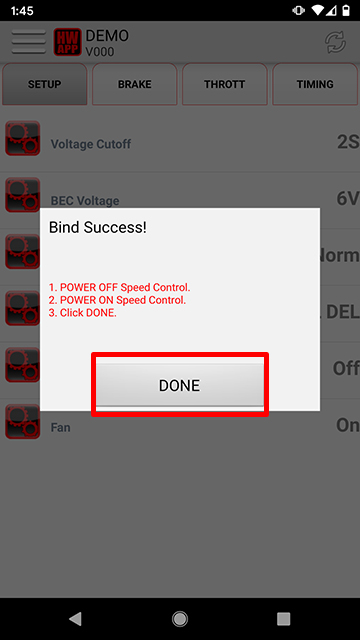 You are now able to connect to your HotWire from your mobile phone or tablet! To connect, see the next section below!
Items to check if you are having trouble binding or connecting the HotWire 3.0 to your mobile device:
1. Phone/Tablet Location or Location Services must be enabled.

2. Phone/Tablet Bluetooth must be enabled.

3. ESC must be powered ON.

4. The Fan setting should be set to ALWAYS ON. This provides power to the HotWire when plugged into the data port on the ESC. This is the default setting, so a Factory Reset can be done if you do not have access to a PC to program or an Android device for USB connection.

5. Make sure your transmitter is ON.

6. Make sure your ESC is in neutral as shown below.
​NeutralSPEC Mode Neutral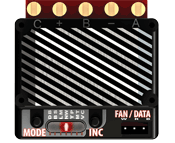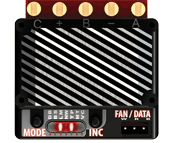 If any Error Codes are present this will keep the ESC from recognizing a HotWire attempting to connect. The ESC needs to be in neutral as this is the only time it will ever be openly looking for a HotWire connection request. Any throttle or codes will keep the ESC in 'drive mode' and it will not accept a connection request from a HotWire.