From the desk of Jeremy Potter, CS Manager at Tekin, Inc.
"Wiring a vehicle is often one of the more overlooked aspects when it comes to installing a new ESC/Motor combo.  Poor wiring routing and placement can lead to problems down the road that could be easily avoided.
The first thing you always want to do is solder the motor wires coming off the motor tabs towards the front (or towards the pinion gear) of the motor. This will ensure that the tabs don't get pulled back off the isolator tab under constant chassis flex and other hard impacts the vehicle will encounter.
Next is choosing the correct wire length for the application. The goal is to use the least amount of wire, while still retaining some flex or "give" to the wire in its natural resting position while soldered up to compensate for chassis flex. Also take into consideration of any moving parts in the car such as the pinion gear, spur gear, out drives, drive shafts, as well as where the body comes to rest when installed on the chassis. You don't want a wire(s) getting caught up or pinched.
I have found this little wire guide set made by Tekno RC (Part #TKR4106) to help keep wires away from spur/pinion gears and drive train parts as well as creating a cleaner appearance.
I have attached a picture for reference."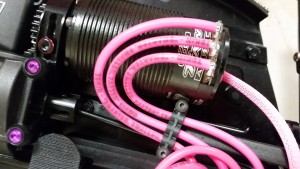 22