Episode 23, part two of the Tekno EB48 2.0 build! Time to install some electronics and get this car set up for the track. We are going with an RX8 GEN3, T8 GEN3 1900KV motor and a T-250 steering servo. Battery is a Tekin 4S 6500mAh Power Cell, look for those to officially release soon!
MOTOR
The EB48 2.0 is getting some power installed! We start with the 1900KV T8 GEN3 brushless motor, geared at 16/44. This gearing is great for most tracks we race on and typically motor temperatures will stay around 160-175F after about a 10 minute race pace session. 17T may be needed for really large flowing layouts, we just have to make sure the motor temperature stays under 180F for best performance and longest motor lifespan.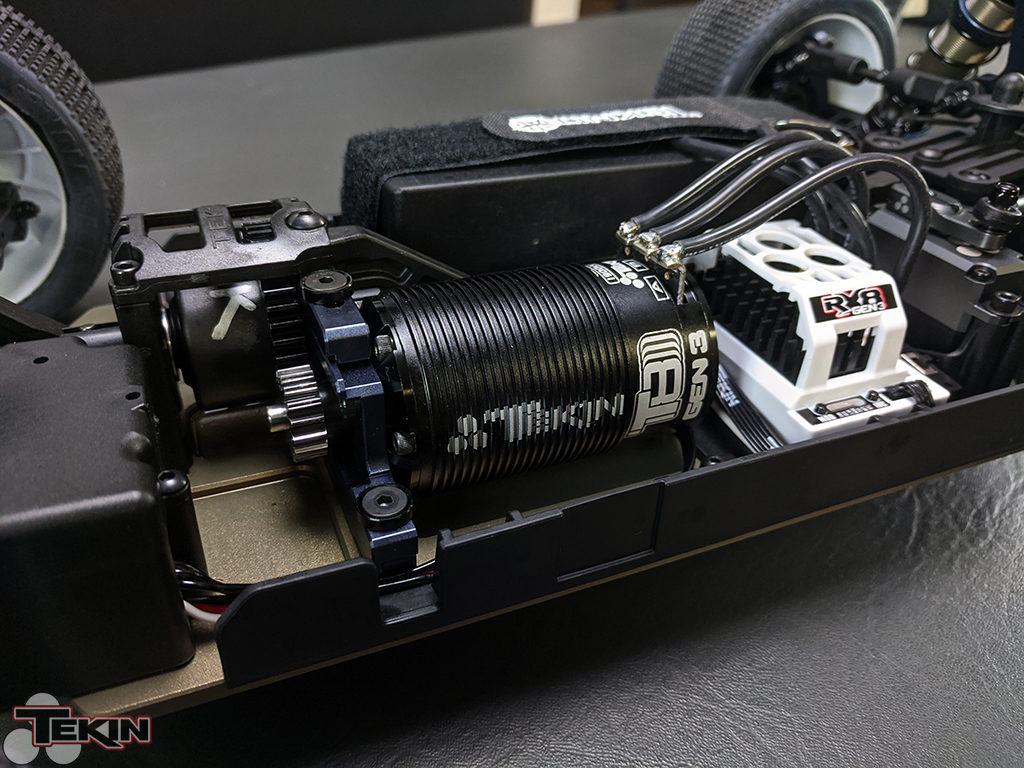 ESC
The RX8 GEN3 is Tekin's 1:8 scale race controller. 6S LiPo rated, 300amp current flow, highly efficient fin style heat sink and programmable with the HotWire, the RX8 is a professional racing ESC. Out of the box the RX8 drives awesome, but a few little tweaks to the settings are usually needed. I have included my setup sheet so you can see exactly how mine is set up. Make sure you properly radio calibrate your ESC so you are getting the maximum performance out of it!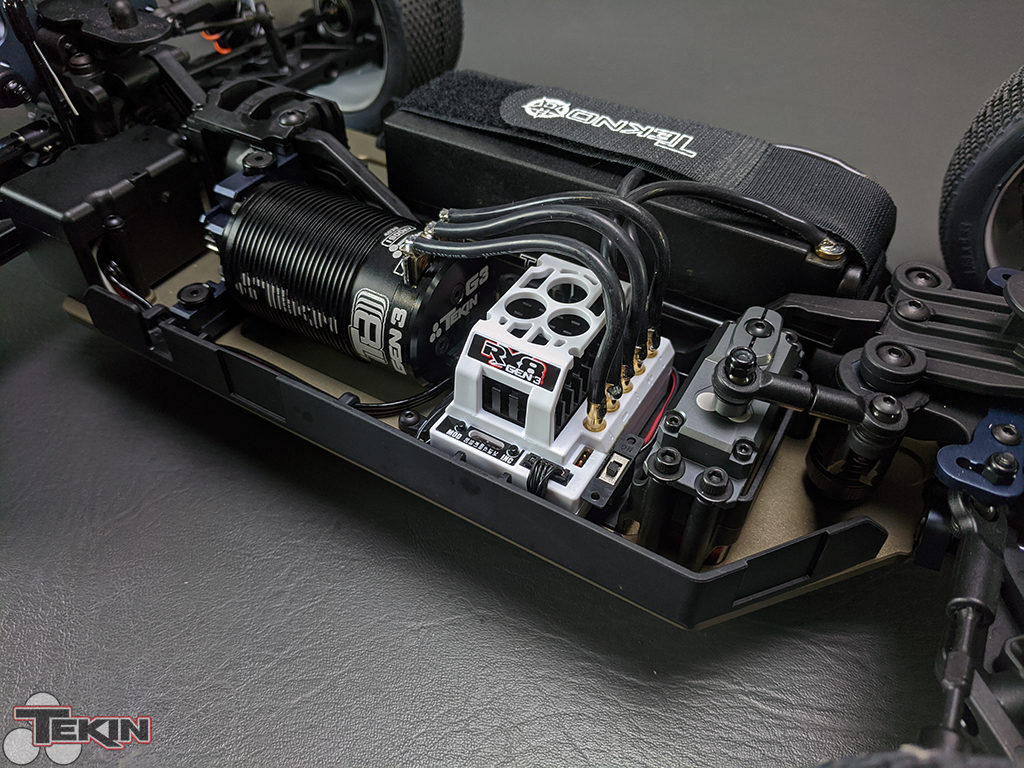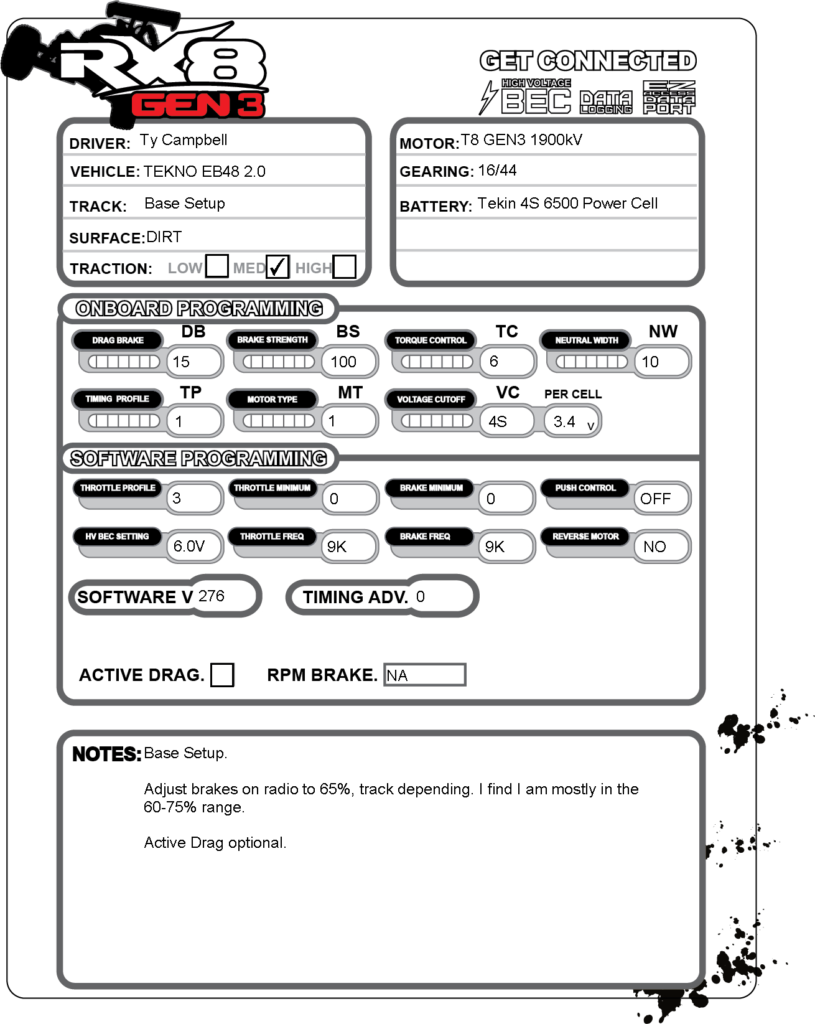 SERVO
I chose the T-250 for our EB48 2.0 buggies, with the T-300 also being a good choice if a little more torque is desired. The T-250 comes in at 254oz/in real torque at a .09s/60-degrees transit speed at 6V. I have not had any issues with lack of torque with the T-250, but it was so incredibly quick with the BEC set to 7.4V that I set my BEC voltage back to 6V. I even de-tuned the servo a bit with the HotWire by changing the Feel setting to a more mild one. These servos are so precise that I am counter steering a lot less than before and it took a bit to get used to the feel. The 20mm Crowbar clamp style servo arm is supplied with the servo and works great in the EB48 2.0.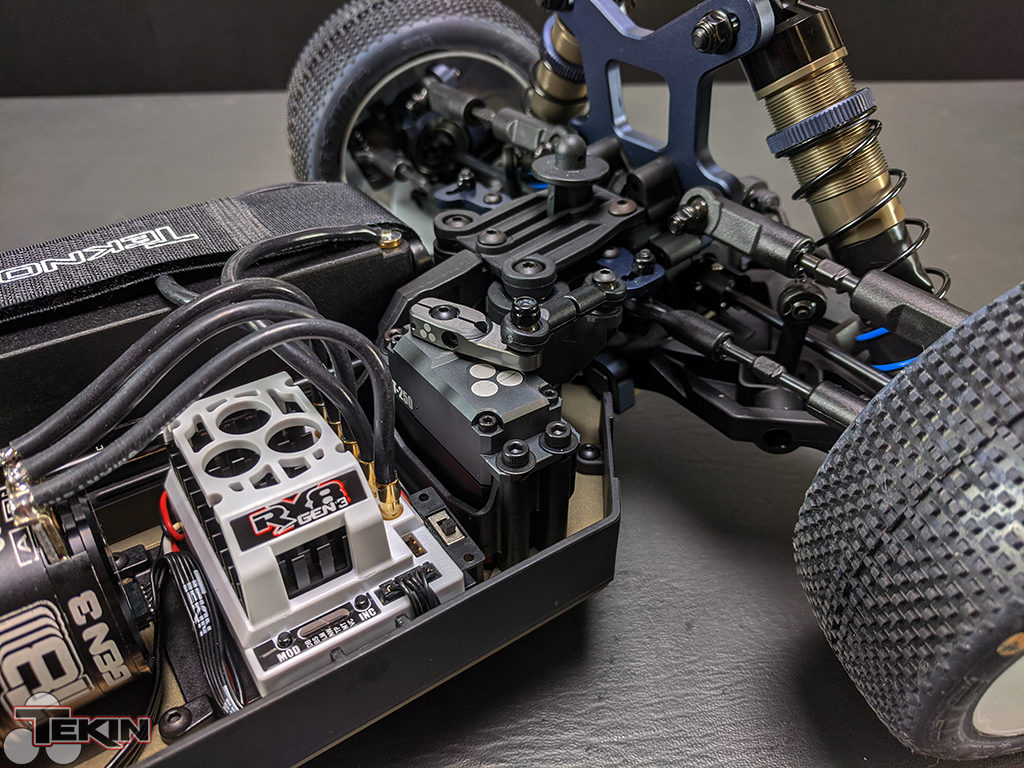 STUFF USED
Tekin RX8 1:8 ESC Power.
Tekin T8 GEN3 1900KV Motor More Power.
Tekin T-250 Servo Precise Steering.
Tekin HotWire 3.0 Tune.
Tekin 4S 6500 Power Cell
Tekno EB48 2.0 Race Kit Much Yes.
Tekno Multi Tool Get this.
Tekno 1/8 Capped Wheel Nuts Protect yo axles!
Pro-Line S3 Hole Shot 2.0 Mounted Velocity White Wheels Traction!