2015 Tasmanian 1/10 Off Road Titles Goodwood. The first big "title" event of the year. Filled with great people and a fun track with temperatures in the 30's(Mid 80's for Us) this race is enjoyed by all.  Tekin driver Ash Peeler recaps his time there:
Friday was the only practise day so getting four cars ready in one day was going to be hard and with the temperature up around 30 every day it was going to be a hot one. The track layout was fun, but grip was low and very dusty, it was half way through the day and the track committee decided to sugar the surface and this made a great difference.
Saturday, Modified 2wd and Stadium truck day it was a beautiful morning and I was ready to go. In 2wd after some small mistakes and tire issues I managed to slot into 4th on the grid for the finals, which I was happy with. My 22T was fast and I managed to start from 1st on the grid for the finals. It was great I could help some of the local TLR drivers in Truck with spare sets of blue 3D's on rims to get them though the days racing.
In stadium truck mod I had a great run in the finals, winning the first two and taking the Tasmanian Title in Stadium Truck Mod, with my TLR 22T powered by Tekin RSX and Redline Gen2 7.5.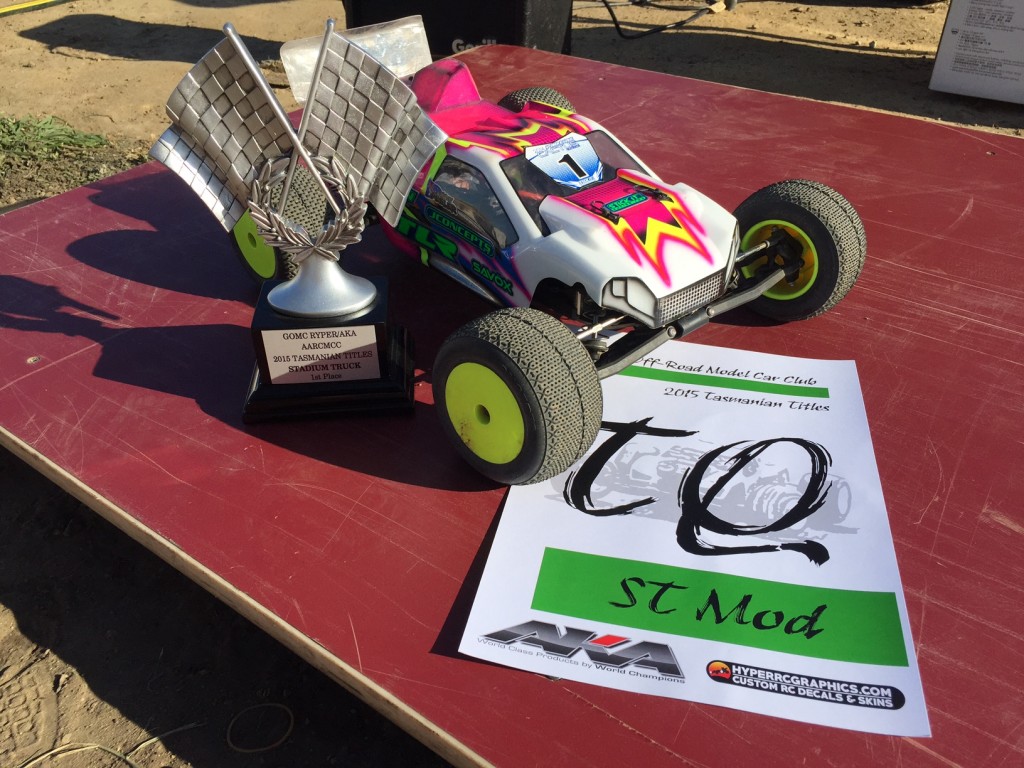 Sunday was SCT day, the weather was mixed with a very hot morning and then thunderstorms in the afternoon which meant we only just finished the day. My day in SCT was very good, after winning every qualifier I started on 1st for the finals. The first final I had a great race with second place, coming away with the win. In the second final the heavens opened and it was hard, very slippery, I was able to drive a controlled race to win and take the Tasmanian Title in Short course, with my TLR 22SCT 2.0 powered by Tekin RSX and Redline Gen2 10.5.
"As Always I would like to thank my sponsors, that help make it all possible. TLR Australia, Team Tekin, Savox, JConcepts, Stickit1 and PMS paint. I would also like to thank the club Goodwood RC for the awesome track and all the other racers for the good times." Ash Peeler