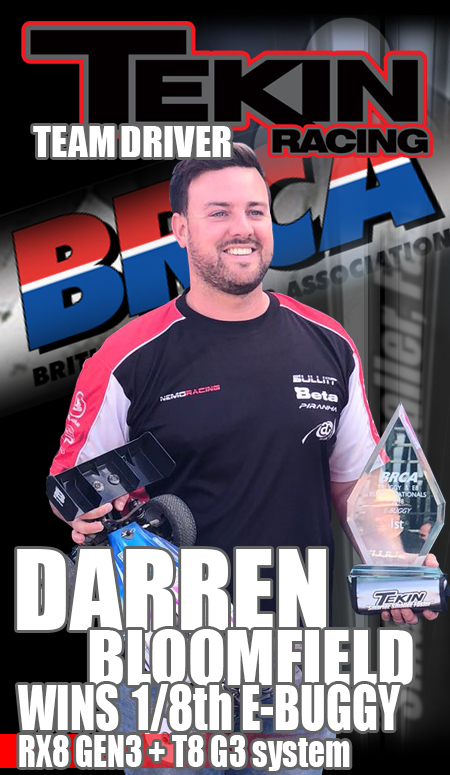 The last round of the BRCA Ebuggy National Championships in the books, we are proud to announce that factory Tekin team driver Darren Bloomfield is Champion again! He had this to say "with the British weather playing part in the series with 32c at one round to torrential downpours at another, low traction oiled tracks to bone dry high traction astro turf, my Tekin Rx8 Gen3 ESC and T8 2050 motor combo has kept me in control and reliable in every single moment, helping me achieve my 3rd consecutive BRCA e buggy national championship hand in hand with Tekin."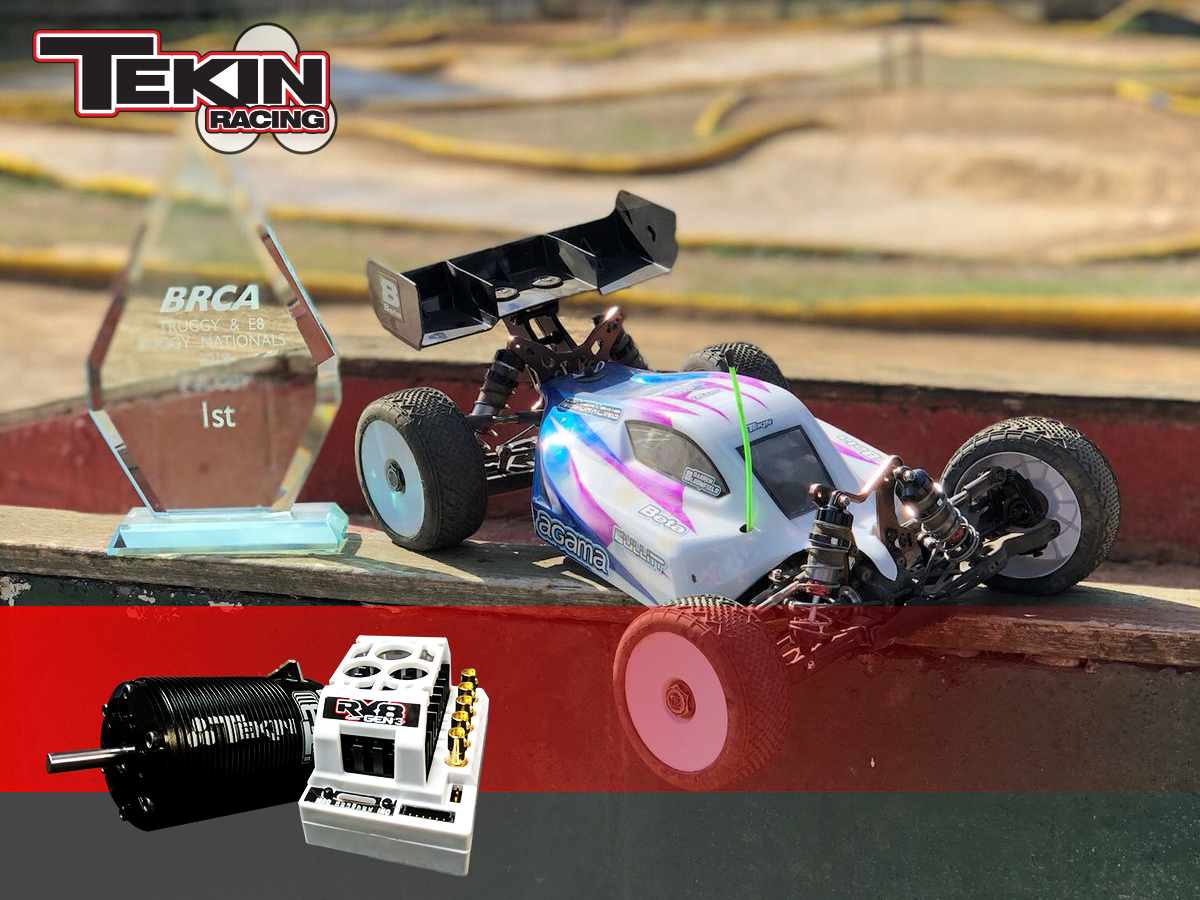 Darren opened his tittle chase way back in April at Brookthorpe a totally new track to the BRCA scene, with some very close qualifying Darren would start the main second on the grid, but with a heavy downpour just before the start  with his Agama A215, Tekin Rx8 Gen3 and T8 2050 he had more control than the rest and claimed a convincing win.
Onto round 2 and it was up north to North West Nitro yet another new track to the calendar however the club have a small history of running UK nationals at there old venue not too far away. With a real loose surface Darren was off to a good start with full control in qualy thus starting P1 for the main converting it to a win stamping another mark on his tittle chase.
Round 3 was first day of July and at yet another club re entering the BRCA calendar after running nationals previously at the clubs old venue, great to see some new venues getting a crack at the whip. With Darren having never been to this track before and others having spent a substantial amount of time here, Darren settled for 2nd in qualifying and although he got real close to the win he would have to also setttle for 2nd overall, a great score towards his tittle never the less.
Round 4 and the very familiar BRCA venue Herts nitro model club, Darren's home track and in the height of summer……. rain all day. Darren felt at an advantage here knowing exactly where every bump is on this track but also because he knew he had the smoothest and most well programmed motor and esc for the super slippery wet oild track conditions. With this said he took a convincing TQ and win lapping the entire field. WITH THIS SEALING THE BRCA E BUGGY NATIONAL CHAMPIINSHIP.
Onto the 5th and final round at Slough and yet another of Darren's tracks he is very familiar with as he use to live one mile away, going round at this event as more of a victory round, Darren went on to TQ all 3 rounds and win the main lapping again up to 3rd place.
10 TQ's, 11 wins and 3 2nd places out of the last 15 rounds over 3 years with one non appearance Darren is convinced he is using the best he can get as you should be also with Tekin. Darren is already looking forward to what 2019 will bring!