After having to cancel the 1st round of the E buggy Nationals due to consistent rain, we all returned a few weeks later for the re-run. It was a dry morning to start off and everyone was getting to grips with driving E buggy round a very fast high demand for power track.
Practice was done and dusted and Darren Bloomfield with his Tekin Rx8 Gen3 and T8 2050kv powered Agama A215e felt he was comfortable and was ready to get a score under his belt. He was close to achieving this but with an unlucky tangle with a slow moving back marker Darren lost some 5 seconds and with it the TQ for the round.  Still a second in the bag and a score to build on. Round 2 and all went to plan, a small change of tires to some slightly newer ones and Darren took the TQ with flying colors! It was all down to the final round of qualifying and Darren looked like he had all under control, the track was fast changing and times were visibly slower.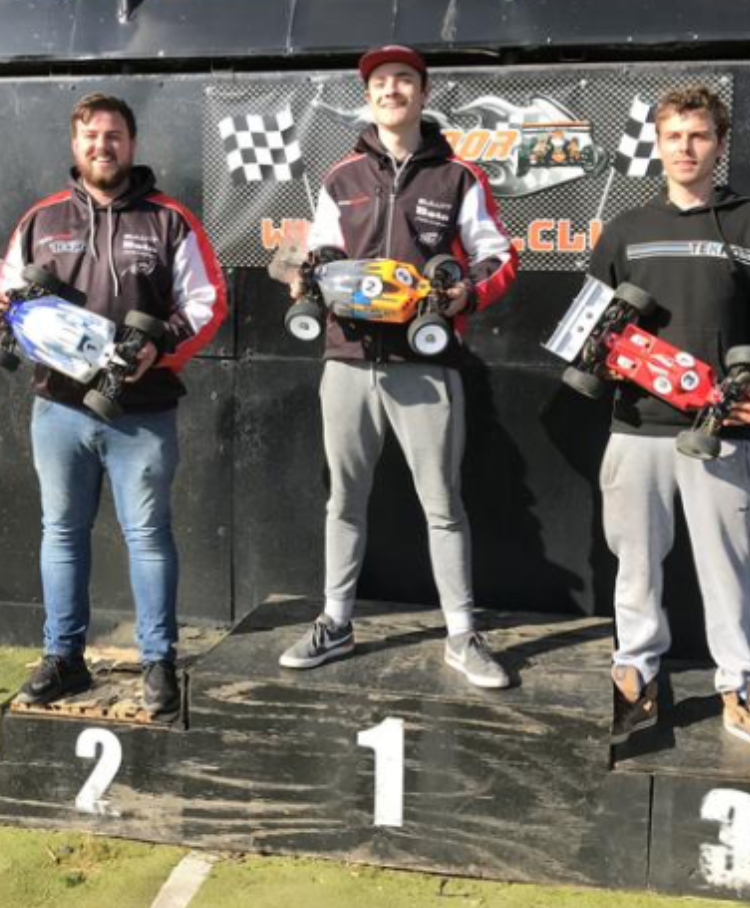 Darren lined up on pole for the single sided finals, A main was to be 1 10 minute leg to decide the winner. A bad start for Darren making his own mistake early saw him fall into the middle of the pack, whilst making his way through Darren was hit from behind thus making his move to the front ever more difficult. Darren with 4 minutes to go found himself overtaking cars almost every corner up into 2nd place, but with an 8 second gap he had to go completely faultless at a speed faster then current first place, with the track warming up and getting ever more slippery Darren for sure had a job on his hands, with 1 lap to go and 2 seconds from 1st place he made a hero lap to get onto the bumper of 1st, with a last corner lunge but to be sure to be clean Darren was unsuccessful at the overtake and came across the line in a close 2nd. All in all a very good score, winning him up for hopeful 2nd consecutive national tittle chase, TQ and second.
Darren chose Tekin RX8 Gen3 and Tekin 2050kv motor for this successful result.