Tekin powered Darren Bloomfield looks to retain his 2016 BRCA E-Buggy National Championship title with a solid win at round 2 held at Kent raceway. He recaps below:
"The weekend before the annual Neo buggy race, here in the UK we were delighted with the warmest and sunniest weather we've seen this year, which was a perfect time to open up our E buggy national series with what was meant to be round 2 at kept however with the earlier bad weather the official Rd1 at NDOR was cancelled and rescheduled to 23rd April.
We were greeted upon arrival of a beautifully re-sculptured surface with a mix of new jumps and options but still representing the well known Kent layout. With the day format set out as 2 5 minute practices, 3 rounds of qualifying with your best 2 to count and single leg 12 minute mains.
Practice 1 went well for me, the track being very very dusty as newly laid and a lot of track markers moved here and there so essentially the same layout but with the markers in different places it is unreal how different a track can feel. With a bunch of the fastest laps in P1 and a very consistent run in P2 i would hold myself 1st after practice.
With round 1 of qualifying coming round fast all eyes were on the track to see if a possible change of tyre was the thing to do as more cars circulated the track started to clean up and a race line was becoming obvious. I chose to go with the same tyre as practice as i knew what to expect, unfortunately for me this was slightly a too safe option, i drove a very consistent run but just lacked a small bit of pace but second in the round narrowly missing out on TQ is definitely a score to carry forwards under my belt.
So around came round 2 and i had switched to our MS medium soft compound of Freeride pattern, this tire is iconically known for its super safe side bite and immense forward traction, this round I would catapult myself back up the top into the lead where i left off in practice, pulling out all the stops a turning the fastest laps on the track of the day with a handful of them into the 40's and take one for the round with a new fastest time of the day.
Round 3 was up and all the pressure was on, with Elliott and I both scoring a 1 and a 2 each from the first two rounds this was going to be the deciding round for TQ honours. I had yet another flawless round matching my round 2 time and gaping second place for the round by almost 10 seconds.
With just a 12 minute main to decide the winner, I knew i had the speed and the consistency to hold my own and bring home the win,with an ever cleaner track the racing line had got wider and wider and my aims to keep it on its wheels and drive to the flag, I did just that from flag to flag and took the WIN on the day by 5 seconds.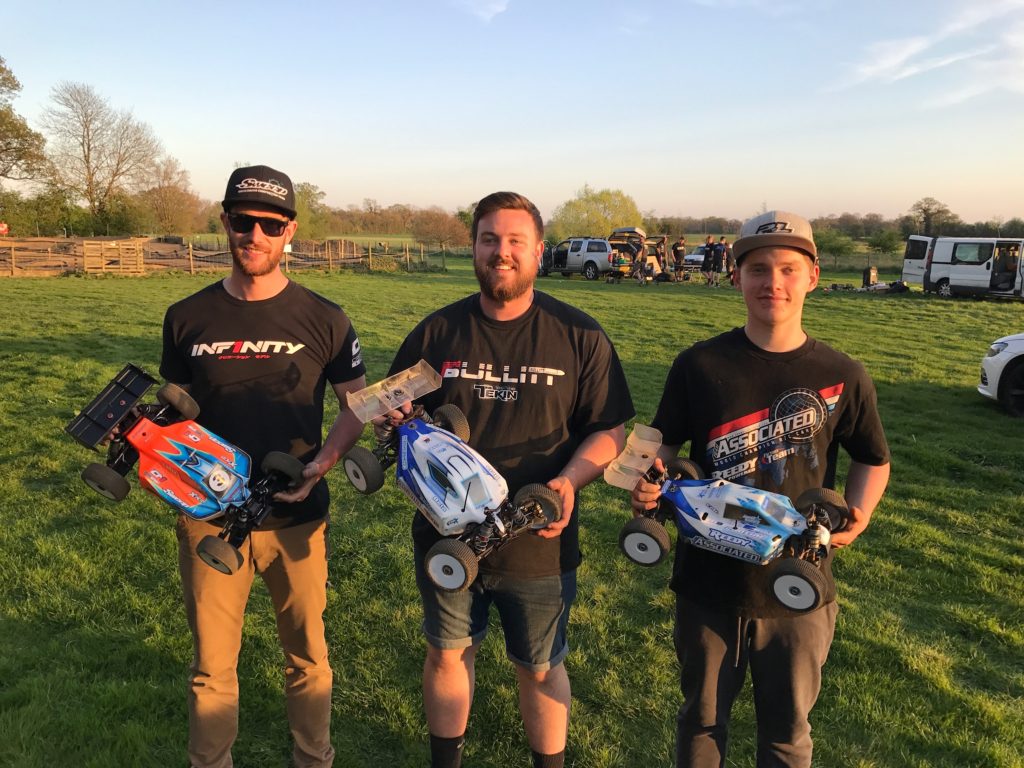 I am pleased and grateful to all those involved supplying me with great products to achieve my goal, TQ and WIN what a start to attempt to hold on to my 2016 E buggy championship, I couldn't do it without said products so underneath I have added link for you to check them out!" Darren Bloomfield