Tekin's Element Proof ROC412 offers protection from the elements, giving you the power to take on the trails or track without fear of water, mud or snow! Designed for heavier trail or rock racing rigs, the ROC 412 delivers more torque and more power on demand. Using a 4-pole 12-slot motor design, the ROC 412 harnesses the benefits of brushless efficiency and extreme amounts of torque to stay on the trail longer with more power.

Couple the ROC 412 with an RX4 or RS GEN2 speed control for the smoothest brushless crawling system available. Rock Racing power and Crawling precision are at your disposal.
​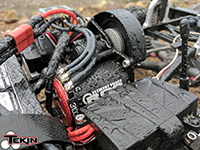 SPECS
Input Voltage: 2S - 5700kV / 4600kV / 3100kV
3S - 3100kV / 2300kV / 1800kV
4S - 2300kV / 1800kV / 1200kV
5S - 1800kV / 1200kV / 500kV
6S - 1200kV / 500kV
Weight: 180g / 6.3oz
Shaft Dimensions: 3.2mm (1/8") x 15.3mm
Motor Diameter: 35.8mm / 1.41"
Motor Length: 52.5mm / 2.10"
Bearing Dimensions: Front: 5 x 14 x 5mm
Rear: 5 x 11 x 5mm
Rotor Size: 18.5mm
Rebuildable: Yes
FEATURES
​

Element Proof design tackles Water, Mud and Snow*


18.5mm Rotor provides more Torque and Braking Power


4 Pole 12 Slot Hi-torque Motor Design
​

CNC Machined 6061-T6 Billet Aluminum Heatsink Can
​

Crawler, Rock Race and Trail Rig Specific
​

Neodymium Sintered Magnets
​

Rebuildable Design
​

High Purity Copper Windings Maximizes Efficiency
​

Precision Engineered for Maximum Energy Conversion
​

Dual-Plug Sensor Wire Harness
​

High RPM ABEC5 Oversized Bearings
* Element Proof ESCs and Motors are specially designed to withstand water splashes and are not meant to be submerged. Included dielectric grease must be used on the sensor and fan port connections to protect them from shorting.
** The ROC412 EP is not intended for operation while submerged in liquid.
*** Anytime your motor sees water it is important that you perform the proper after run maintenance. Warranty does not cover neglect, lack of maintenance, bearings, rust or any damage that may occur if the motor is submerged in water.
MOTOR ONLY
TT2620 - ROC 412 EP 5700kV
TT2621 - ROC 412 EP 4600kV
TT2622 - ROC 412 EP 3100kV
TT2623 - ROC 412 EP 2300kV
TT2624 - ROC 412 EP 1800kV
TT2625 - ROC 412 EP 1200kV
TT2626 - ROC 412 EP 500kV
ROTORS
TT2615 - ROC412 EP Rotor 1/8" Shaft
BEARINGS
TT2612 - ROC412 Bearing Set -
Front: 5 x 14 x 5mm / Rear: 5 x 11 x 5mm
MOTOR PARTS
TT2610 - ROC412 EP Rebuild Kit: End Caps / Bearings / Solder Tabs / Isolator / Hardware
TT2611 - ROC412 EP End Caps / Hardware
TT2613 - ROC412 EP Sensor PCB
TT2614 - ROC412 EP Solder Tabs / Isolator