Team Tekin Driver Paul Timberlake using the Tekin RSX and Gen 2 6.5 Motor took the win in the A main – Round One of SMCC Winter Series.
A damp track greeted the driver's early Sunday morning qualifying, knowing this most drivers opted for the softer Silver compound tyre. Round's one, two and three would be shared between Kevin Lee and Paul Timberlake meaning the final rd, (using the rd by rd format) would be a straight fight between the two drivers, and the big question was, was it dry enough for dry tyres. Yes was the answer. A scrappy fourth rd, enable Kevin to take the overall Top spot on the grid. A close second was Paul Timberlake, and 3rd was Nigel Buck.
A Main Final: An early mistake by Kevin allowed Paul to take the top spot, and he didn't look back from there. As hard as Kevin chased, he didn't have the ultimate pace to catch Paul, although a couple of late bobbles allowed Kevin to close the gap, but Paul held his nerve and took the Win.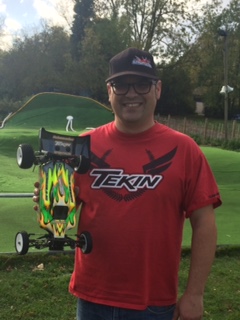 "As always my Tekin equipment worked faultlessly. The only change I made during the day, was to wind down the boost just until the track dried. Then once the track dried later in the day, I reverted back to my std settings." Paul Timberlake