The 2016 edition of the annual event that brings racers from all over Oklahoma & Texas together to decide who will walk away the winner between the north & south. Practice kicked off early afternoon as the sun was still beating down on the track that yielded very little traction to lay down fast laps. This is normal for Battleground though, so everyone is just getting a feel for their cars adjusting for what is to come when the sun goes down. Although the track was dry slick, it started to take a little rubber before the races even got kicked off. This even featured Midwest Modifieds, ODRA SC Modifieds, Open Sprint Cars, Latemodels, & 4wd latemodels.
The open electric sprint had about 40 entries meaning qualifying was going to be important as there are only 2 rounds and a re-sort after the first round. Tekin powered Brian Stanton was in the last heat of Open Sprints and had a fairly smooth run with only a few issues lapping cars. His RSX/7.5 Gen 2 powered Custom Works Outlaw 3 was hooked up and drove to the first round TQ position. The second round was indeed faster, as expected. The second heat race already had someone claiming new TQ honors. Making use of all the grip, Stanton put the RSX/Gen2 power down, only having an issue with two lap cars all run, but it wasn't enough to reclaim TQ as Tekin teammate Nathan Dean had an amazing run as well to claim the pole for the A-Main with me rolling off behind him in 2nd place.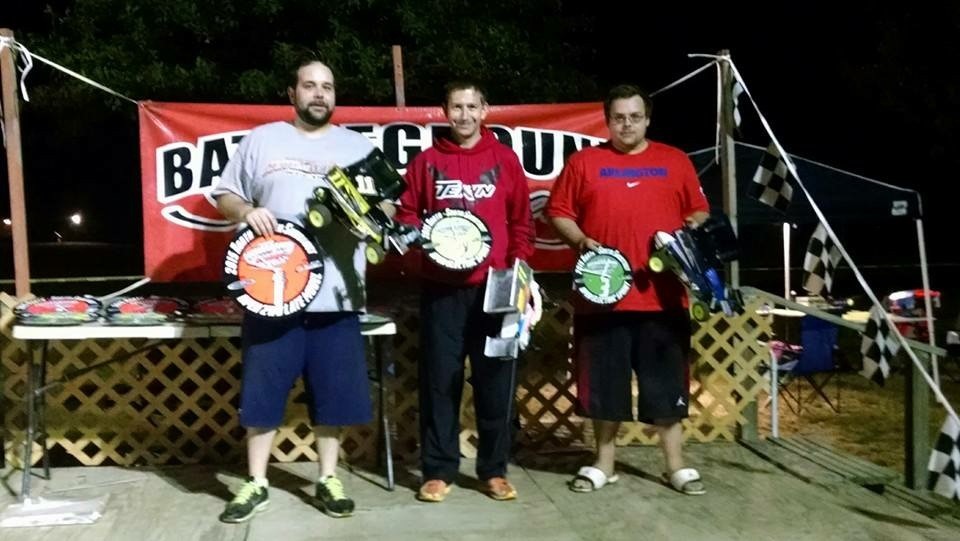 The main events had started after full darkness had set in. The track was really holding moisture and the clay was yielding some very fast lap times with tons of grip. At the start, Nathan and Brian were able to clear real estate from 3rd place quickly. A small bobble on Stanton's part allowed Dean to stretch a lead on me, but a tangle with lap cars pulled Stanton right back on his bumper. For a few laps the two teammates were within a few feet of each other until Dean was able to navigate lap traffic a little quicker than Stanton could. In the end, Nathan Dean took the win, Brian Stanton was second, and Andrew Dean rounded out the podium for Open Sprints. This was a repeat of our finish last year, going 1-2 again in the A main.
All three drivers chose the Tekin RSX ESC and Redline Gen2 7.5 T motor.
10.5 Midwest Mod had the most entries of the weekend and the field was very close with the top 20 cars being within 8 seconds of each other. It was Tekin driver Nathan Dean taking TQ and the win followed by David Alford and Steve Eaves taking 3rd, Steve was so running Tekin motors and speed controls.
Steve Eaves was also able to win Mod Late Model running all Tekin products. He did a great job and his car was a rocket all weekend.