588 Raceway hosted the High Voltage Shootout that drew 81 entries. That is the biggest turn out we have ever had! The hometrack of the Hanna family. Wife Myssie runs the races and the Eric Hanna and his sons Griffin and Collin help assure the track is in top shape.
In the E-buggy class Tekin team mate John Michael Mcginty III was TQ and Griffin Hanna and Collin Hanna were qualified 2nd and 3rd. The 3 Boys were the only ones to get a 15 lap run in qualifying. On the first lap of the race Mcginty went for the triple and pushed out a bit wide and that opened up the door for Griffin.Griffin made the pass and Mcginty jumped right back on his bumper. The second lap they both aired it out over the 25ft tabletop to tabletop jump. Mcginty started to roll end over end and while the marshall was running,Griffin high sided and the marshall grabbed him quicker which left John sitting on his lid for what it seemed like an eternity. That allowed Collin to slip by and take the second spot.Griffin stretched out his lead over his brother Collin by 13 seconds.Collin played it safe and drove a smooth race to finish 2nd.3rd went to local guy Bobby Patsel run a Mugen MBX 7.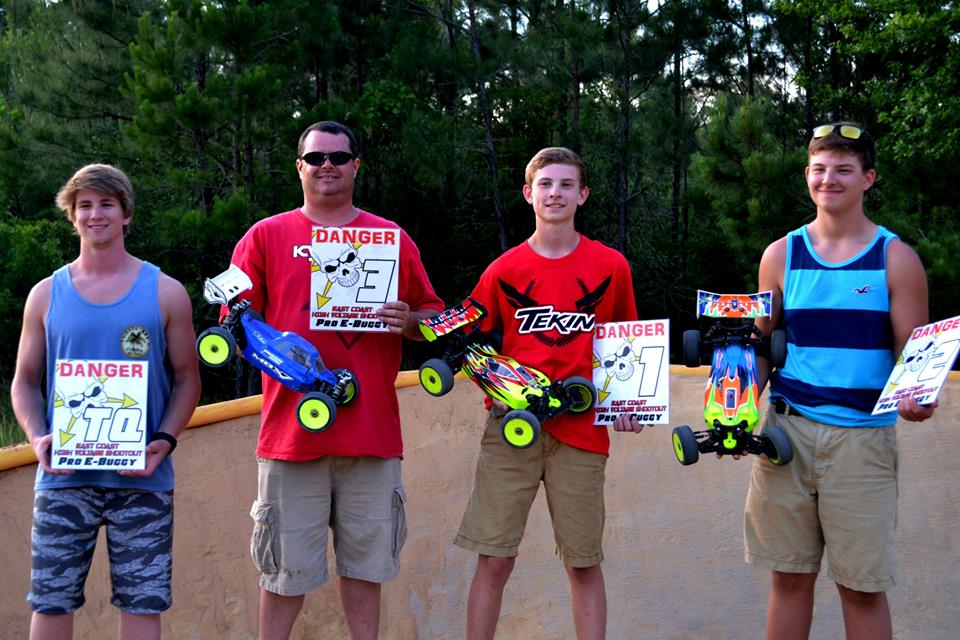 (L-R) McGinty, Patsel ,Griffin,Collin.
Both Collin and Griffin ran their award winning Tekin Rx8 Gen2 esc and T8 Gen2 1900kv powered Serpent Electric 811 Cobra Buggies and were dialed on the high bite track. They ran flawless like normal and the motors are killer fast!
In the Pro Mod 2wd class John Michael was clearly the man to beat. He also took TQ and the win with his Centro buggy. He lead from start to finish with Griffin Hanna taking the 2nd spot with his rear mount Serpent Spyder SRX2. The 3rd spot went to Losi driver Kevin Bullock. Collin finished 2.7 back from the 3rd spot.
Both McGinty and Hanna chose the Tekin RSX esc and Redline Gen2 line of motors.
"Thanks again to Paul Ciccarello,Brian Looper,Randy Pike,Jon Martin,Chris Schaefer and Landon Thompson from LET's Go Racing for all the support. Couldn't do it with out all the great products." The Hanna's