The Alabama Manufacturer's Shootout is one of those bucket races that you should think about hitting up. Hosted in an agricultural center in Cullman, Alabama it's a great venue with a laid back atmosphere and always seems to have consistent grip one year to the next. The dirt is a red clay that starts off a bit slippery but quickly builds grip on the race line as the laps are put down on it.  The layout has some huge elevation changes and some technical jumps as well as some high speed sections making for quick lap times and plenty of areas to make up time if you were good enough to do so.  RaceTime has done a great job of setting up manufacturers all in a row providing a great opportunity for the average racer to swing by and ask a few questions, get some setup tips or technical help from their favorite brands.  Tekin was in attendance and had quite a few team drivers on hand as well. With nearly 300 electric entries as part of the 475 total entries there was plenty of people looking for the latest Tekin tips at this race. Our team manager Randy Pike was in attendance to personally assure that anyone choosing to run Tekin would have full factory support available to them.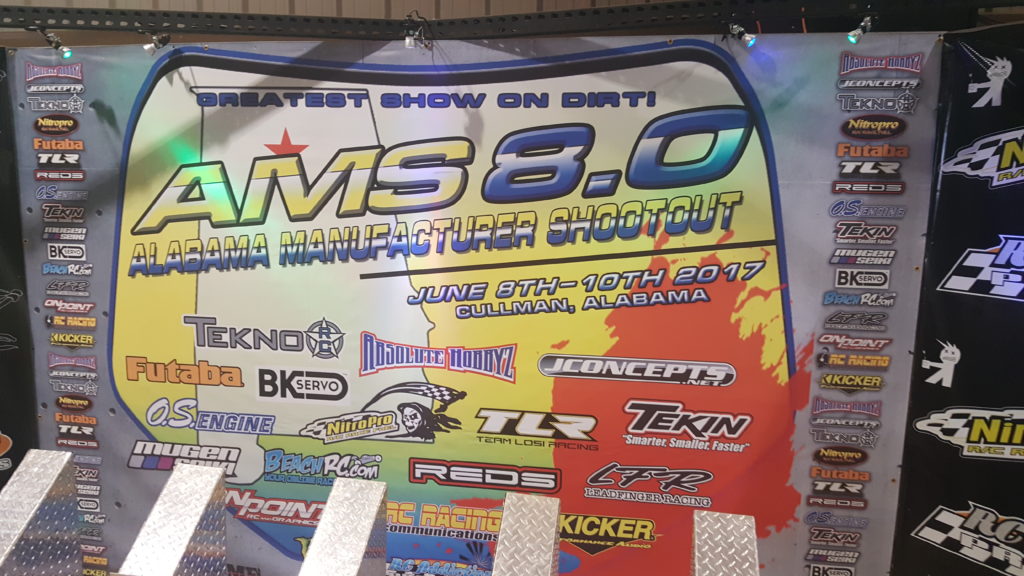 One of the fiercest classes of the weekend was Pro E Buggy. Tekin factory pilot Joe Bornhorst would be the overall Tq going into the triple A's. Joe would lead nearly tone to tone in A1 but would make a small mistake on the closing laps to give Ryan Lutz the win in A1, Joe 2nd. A2  Joe would again start from P1 but would be pressured right away by Spencer Rivkin which would allow Cole Ogden to battle in that fight as well. Joe would fight back getting around Ogden and force an error out of Rivkin to retake the lead never to give it back. Lutz would be in this battle as well with Rivkin, Tebo and Ogden. A few position changes going back and forth for the remainder of the race. Lutz would take advantage of Tebo and Rivkin battling and put the move on Tebo to take 3rd in A2.  A3 would be the last race of the night running around 11:30pm.  Bornhorst would lead tone to tone gaping the field  handily to take the overall win. Ogden would take 2nd.  Once the triple A's were totaled Joe Bornhorst was your overall winner followed by Ryan Lutz 2nd, Rivkin 3rd, Cole Ogden 4th, Tebo 5th. Notable A-main drivers also using Tekin were JR Mitch and Tyler Hooks.  With over half the field using the award winning Tekin Rx8 Gen3 and or Tekin T8 Gen2 motors it's clear Tekin is the choice of fastest guys in this class.
Tekin factory driver Martin Harrison would put on a show in 4wd SC taking the overall Tq and taking A1 and A2. Nathan Harrison would take a 2nd overall after a great battle in A3. In this class Tekin was the clear choice with 90% of the entire field the award winning products. Both Martin and Nathan chose the Tekin Rx8 Gen3 and Pro4 HD 4300kv motor in their TLR SCT's.
Harrison and team manager Randy Pike would qualify 1-2 in the 40+ E Buggy class. With over 30 entries in this class the racing was close and competitive.  Harrison would have a mechanical in A1 allowing Pike to get away. Mark Moon was in the hunt also and after a few laps Pike would make a bobble over the right side hip jump allowing Moon to run away. A2 would be a similar story with the right side hip jump giving Pike a hard time(I sucked on that jump! Randy).  Moon would take the win in A2, Pike 2nd, Harrison 3rd.  Moon sitting out A3 would have Harrison starting from pole , Pike 2nd.  This is where they'd finish the main as well. Harrison would win the tie breaker with a 1-3 compared to Pike's 2-2.  Harrison and Pike both chose the award winning Tekin Rx8 Gen3 ESC and T8 1900kv motor. Seth Rippee father of Brad Rippee would finish 5th also running Tekin!
Open E Buggy was heavily contested this year. Going deep in to an E-Main this year at AMS 8.0!  Team manager Randy Pike would manage to qualify 7th overall in this competitive class. The up and coming young guns were out for blood.  A1 allowed Randy to be patient and let the top 5 take each other out getting up to 3rd on the 2nd to the last lap battling out with Grayson Thompson, the two swapping positions on every other turn on the last lap. Thompson would get Pike on the sweeper drag race to the line. A2 was as similar story with Pike getting up to 3rd on the 2nd to last lap battling out with James Calhoun and John Carrio on the last lap taking 5th. A3 was a bit of a crash fest.  Pike would suffer a mechanical half way through taking 5th overall.
All of the team driver setups can be found HERE