Sanford and Son RC headed out to IERC Raceway in San Bernardino, CA on April 26th for Round 8 of the JConcepts Top Notch Winter Series.
There were 175 entries for this final round of the series. Factory drivers in attendance included Hobby Pro USA's Andrew Smolnik, Tekno RC's Rudy Rico, TLR's David Jenson, Brian McDuffy and Brian Sullivan, Jimmy Wright from Trackstar RC, Pres Ilog from AKA, and a number of fast local drivers, including Kevin Kasten and Scott Wagner. There would be two rounds of 5 minute qualifiers, followed by 6 minute A Mains.
1/8 Scale eBuggy
Tekin powered Lucas Sandford would run the first qualifier mistake free taking the TQ. A quick car change would have his lap times in round 2 .7 seconds per lap faster allowing him to better his TQ time significantly giving him P1 on the grid for the A Main.
In the A Main, Sanford got a great start and quickly pulled out to about a 2 second lead. A mistake free giving Sanford the A Main win. "My Tekin Rx8 Gen2 T8i Gen2 powered Kyosho MP9e TKI was fantastic all day!" Lucas
1/8 Scale eBuggy Final Round Results: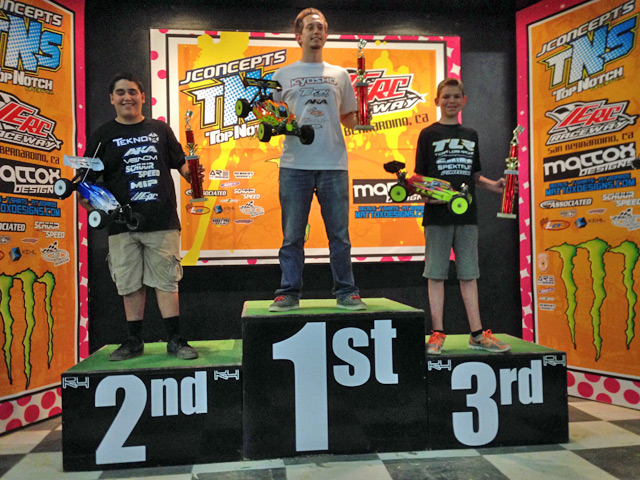 1. Lucas Sanford (Tekin)
2. David Jenson (TLR)
3. Chris Burling
2wd Mod Buggy
In the A Main Sanford would start from his P2 position would spin his wheels on the start allowing McDuffy and Rico to get by.  However, Lucas drove well the rest of the race and would finish fifth overall. Fortunately, his finish would give him enough points to win the overall series.!
"My Tekin RSX with the Redline Gen2 7.5 powered RB6 equipped with AKA clay Typo tires was very good." Lucas Sanford
2wd Mod Buggy Overall Series Results: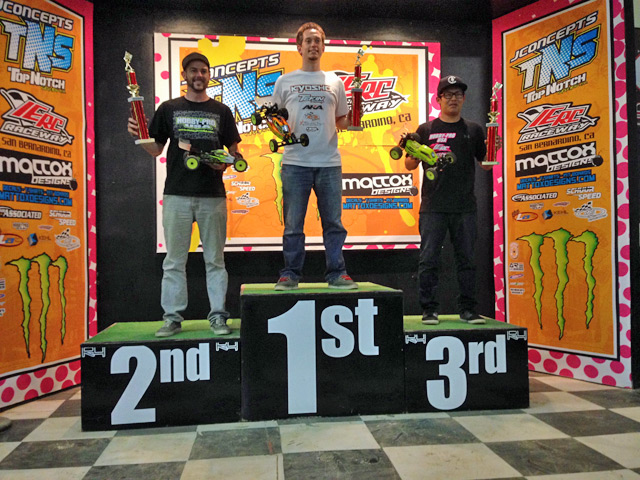 1. Lucas Sanford (Tekin)
2. Andrew Smolnik (Hobby Pro USA)
3. Cameron Bash
Mod Truck
Lucas Sanford would win all five races he competed in taking the TQ in four of the five. Sanford chose his Tekin RSX and Redline Gen2 6.5 powered RB6T on AKA clay Typo tires with DE wheels in this class.
Mod Truck Overall Series Results: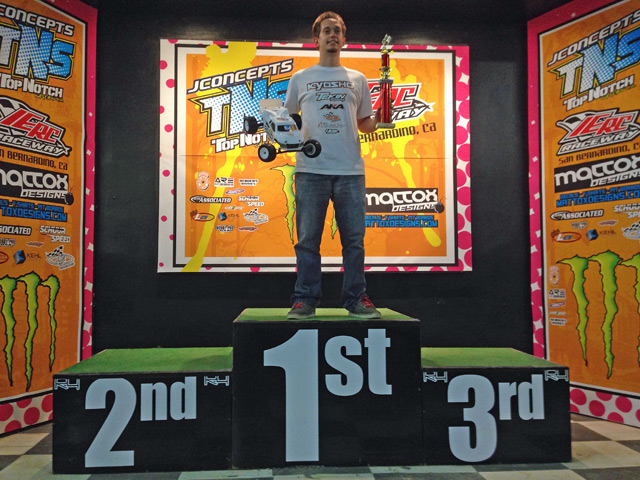 1. Lucas Sanford (Tekin)
2. John Schultz
3. Mikey Bustamante (Tekin)
"I would like to thank all of my sponsors for making it happen: Sanford and Son RC, Kyosho, AKA, DE Racing, Tekin, TTN Racing and Upgrade RC. Thanks also to JConcepts and DE Racing for sponsoring this series, and IERC Raceway. Last but not least, I would like to thank all of my fellow racers for coming out to this series, all the track owners and track crews, and the TNS organization. A special thanks goes out to Neobuggy for their continued support throughout the series.
Without the dedication and support of everyone involved, we would not be able to enjoy this passion of ours." Lucas Sanford